Aston Martin announced the new DBS Superleggera recently. They describe it as a Super GT, replacing the Vanquish S within Aston Martin's thoroughly modern range.
The DBS Superleggera uses two names that are well established in Aston Martin folk lore. The DBS moniker was first used in 1967 for a car that James Bond would use in On Her Majesty's Secret Service. The name was revived in 2007 for a DB9-based model which would also appear in two Bond movies. The new DBS is quite clearly based around the acclaimed DB11.
The use of the Superleggera name is slightly more controversial. The name normally refers to a construction method utilised by Carrozzeria Touring Superleggera, most famously on the DB4 and DB5. The DBS Superleggera does not use this type of construction, it simply borrows the badge. The design is entirely in house.
2019 Aston Martin DBS Superleggera
The Aston Martin DBS Superleggera uses carbon fibre body panels combined with aluminium. It continues to use Aston Martin's curlicue (the area behind the front wheels) and Aeroblade aerodynamic profiles. It gains a double diffuser which accounts for 180 kg of downforce. The front is particularly striking with the deep and dramatic front grille.
Options for the exterior will include a carbon fibre roof panel and roof strake set. Various other components can be ordered in carbon fibre and Aston Martin will also offer a full titanium exhaust system.
Fitted under the bonnet is a 5.2-litre twin-turbo V12. It gets 725 hp and 900 Nm of torque, enough for a top speed of 211 mph and a 100 km/h sprint of just 3.4 seconds, 160 km/h arrives in 6.4 seconds. In terms of efficiency, the V12 returns a combined 22.9 mpg or 12.28 litres per 100 km.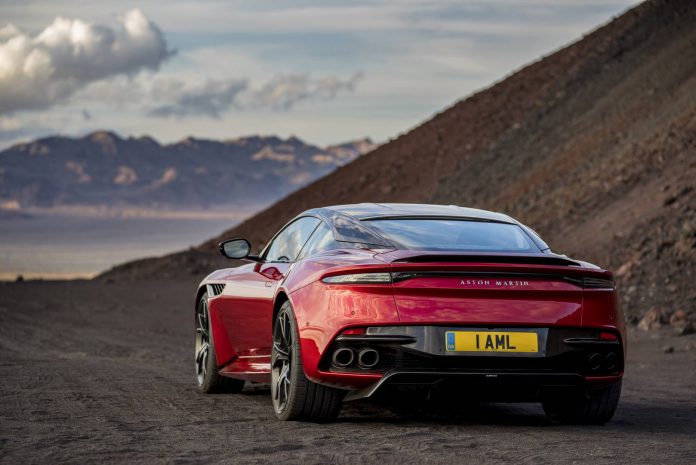 The DBS gets a new exhaust system with active valves. The power is routed through a rear-mounted ZF eight speed which benefits from a shorter final drive and a unique calibration. Aston Matin also use a mechanical limited-slip differential and torque vectoring. Dry weight is 1,693 kg with a 51:49 split, 72 kg less than the DB11.
The DBS Superleggera uses the latest generation bonded aluminium structure which was introduced with the DB11. It gets forged double wishbones at the front and a multi-link system at the rear. Adaptive damping is standard with a choice of three dynamic modes – GT, Sport and Sport Plus.
The headlights are LED units which incorporate a daytime running light and a lock/unlock graphic. The wheels measure 21 inches with a forged Y spoke design with silver as standard and gloss and satin black options. They cover carbon ceramic dice measuring 410 mm in diameter and 360 mm at the rear.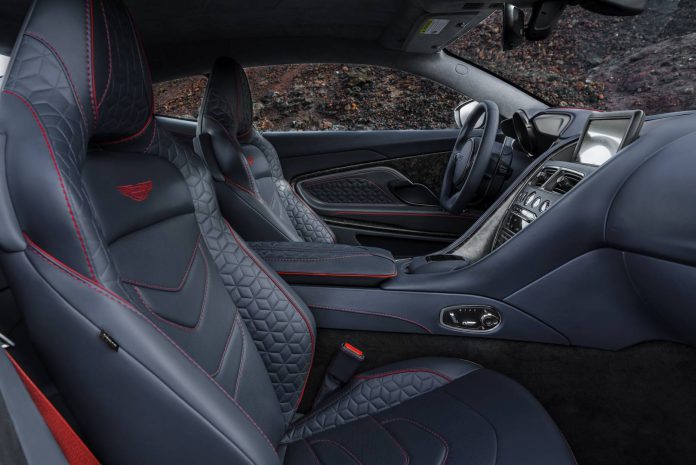 Inside, the DBS Superleggera features a 2 plus 2 setup. The interior is fully leather with Caithness or Balmoral options. Contrasting welt's will be standard as will a carbon fibre steering wheel and quilting. Carbon fibre inlays and seat back veneers can be optioned in carbon fibre. Aston Martin say very little about the infotainment system which is Mercedes-Benz derived.
Standard equipment includes keyless entry, a tyre pressure monitoring system and a 360-degree camera with Parking Distance Display and Park Assist. The audio system has DAB plus Bluetooth audio and phone streaming, iPod, iPhone and USB playback. There is also an integrated satellite navigation system and wi-fi hub. All the in-car infotainment systems use a central LCD screen, controlled via a central dial.
Prices will start from £225,000 in the UK, 274,995 euros in Germany and $304,995 in the USA. Customers can expect delivery of the DBS Superleggera during the third quarter of 2018.