China is something of an enigma to a lot of us in the west. We live in a news world where China dominates economics headlines one day and political pages with comical caricatures featuring president Donald Trump the next. Millions flock to see the great wall, terracotta army and cities that are the same size as small countries every year. I thought I knew China having travelled to the country with the largest population on the planet for the past 3 years. Apparently, and as I found out, the real China was something else all together. Mercedes-Benz are known for hosting the best annual road trips and this years was titled the Mercedes-Benz China Experience.
After 10 hours on an aged British Airways 747, I arrived in the iconic city of Shanghai which is home to a mammoth 24.1 million people and was the start line of what became a journey that would take myself and a handful of journalists four days driving through Suzhou, Moganshan and Hangzhou before returning to Shanghai. Why this route? All of these cities follow the Yangtze River Delta, colloquially referred to as the golden triangle. The villages, towns and cities on the Deltas bank are known to be the wealthiest areas and are being rapidly urbanised. The wealth and urbanisation have combined and resulted in more roads, traffic and first time car owners than ever before.
The group and I are classified as first time Chinese drivers, a trip to the local police station had been arranged for us to collect our Chinese driving licenses. Of course, in a city with 24.1 million inhabitants, the local police station was a vast collection of buildings that were all heaving with locals.
Speaking no words of Chinese I blindly followed our interpreters words and somehow ended up having my blood pressure checked, proving I could squat and even passed a reading test using sign language (see the image below of me repping westside…). Following the bedlam of the Shanghai Police station and an incredible dinner I turned in for the night ready for an early start.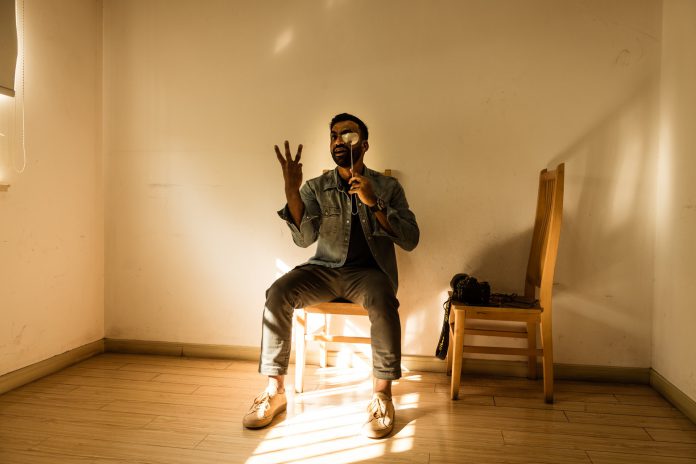 The morning sunrise on the River Bund was a sight to behold, outside the hotel reception was another impressive sight, the cars that would be embarking on this journey. To say I was putting on a brave face about taking to the chaotic Chinese roads would be fair. It is utter chaos upon first sight.
From previous trips in China I had always told myself that I had been lucky to never have had to drive. That was all about to change. There are dozens of mopeds that buzz around like insects, it is a miracle that there are not crashes on every corner. Then there are the car drivers – lane discipline, use of indicators and any spacial awareness are all absent in the list of a Chinese drivers skills.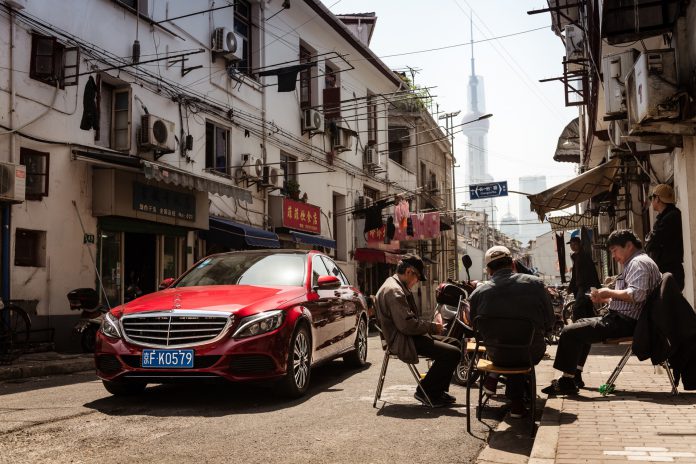 Good thing the cars were safe – The fleet of ten C and E-Class models were ideal for the mixed conditions we would face. The Chinese market demands luxury, in this segment that means space. Beijing-Benz manufacturer the wheelbases C & E-Classes locally and they cannot be found anywhere else in the world, the quality and finish are exactly as you would expect from a Mercedes-Benz model.
The safety and comfort of the Bunyan Tree Hotel was no more, onto the Shanghai streets I went. The fear was palpable, I was genuinely fearing for the safety of my long wheel base E-Class, the rear seats with S-Class levels of plushness and space were very inviting at this point. In all honesty, the horror stories told at the dinner the previous evening did nothing to calm my nerves, but alas, it was not as fear inducing as previously expected. Yes, it is chaos, but everyone keeps to themselves and somehow manage to avoid catastrophic collisions. In Shanghai itself, there is very little opportunity to have a crash of any significant magnitude as the traffic prevents you reaching anything more than 30km/h. I was not complaining about traffic…for once.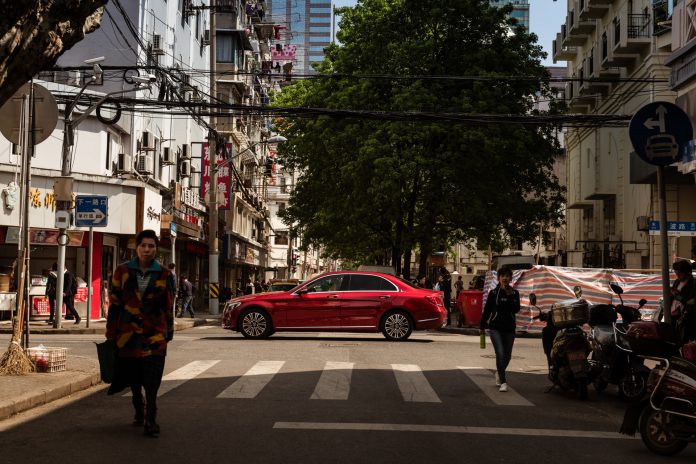 On to the highway where I would complete the majority of the days driving and it is all very civilized, kind of. People overtake on whichever side they please, but other than that it is not dissimilar to any European highway. The tarmac is unbelievably smooth, it is clear that they have the money to support a great network of roads. Oh, there is one significant difference to anything I have experienced before. Cameras. No not speed cameras, surveillance cameras. There is one every 250 meters, and I mean EVERY 250 meters. Everywhere you go, there is a sense that you are being watched. As a result, China is one of the safest places in the world with very little crime. The group were told a story that the government can find anyone in the country within just six minutes. SIX. It takes me six minutes to find a matching pair of socks in a single draw every morning.
Having somehow survived the days drive it was time for a traditional Chinese dinner in Suzhou, a small city with a tiny population of…10.3 million. Morning broke on what was promised to be a more scenic route that the journey had treated me to so far. The rumors were true, leaving Suzhou towards Moganshan was an eye opening experience. A couple of hours away from the city the highway was traded for narrow country roads that began to ascend into the hills where tall apartment blocks were swapped for desperately beautiful bamboo forests that stretched as far as the eye could see. It was above these mind boggling forests that I would spend the night in the incredible Naked Stables retreat in the most incredible villa. It is here that I was told I would experience 'the real' China. The group and I were treated to a traditional Chinese tea ceremony that was accompanied by a session of mediation before we were treated to a good old fashioned barbecue watching the sunset over the forests below.
From the modern jagged Shanghai skyline to the breathtaking bamboo forest sunrise, it was clear to see that China has undergone rapid and significant change in an incredibly short space of time. As a result, there are more first time car buyers than ever before. The combination of wealth and automobiles being a status symbol mean that Mercedes-Benz products are in greater demand than most brands and represents the most significant market for the manufacturer.
I woke up watching sunrise over the bamboo, I happily would have moved in to my villa and left all my possessions and problems back in London, but it was time to hit the road again to reach the evening stop – Hangzhou, one of the more luxurious and wealthy parts of the country. Hours of monotonous motorway miles passed before entering the outskirts of the big city and trundling through endless traffic jams – arriving at the Four Seasons on West Lake was a welcoming sight.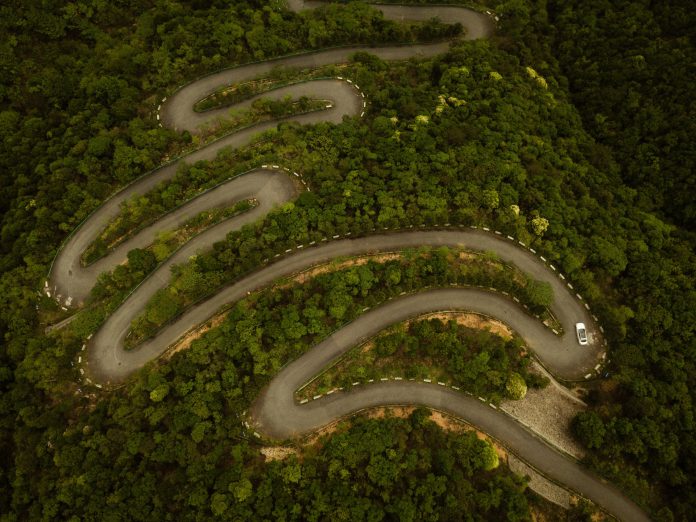 Whilst in Hangzhou it seemed fitting to stop at the largest Maybach showroom in the world to understand the insatiable Chinese appetite for all things luxury. How many Maybachs do you think are sold in this single showroom a year? 50? 100? 200? No, no and no. This one Maybach specialist sold 242 Maybachs in 2017. There were 260 working days in 2017 – that is almost one per day, in this one showroom!
Departing the city the next morning was bitter sweet. The next stop would be the Bunyan Tree from which this journey had began and where it would end, bitter. The sweetness came in knowing that the driving would come to an end – that is because driving in China is not easy. It is stressful in town, but no more stressful than driving in London, Paris or Los Angeles. Those cities will make you swear and arrive needing to spend three days in a spa. The aforementioned cities are exceptions in their native countries – in China every city suffers from the same treacle like sluggish streams of traffic. It's no wonder that Mercedes-Benz products are so poplar in China, the start stop autonomous driving features are a God send!