We've heard about Aston Martin's plans for Lagonda and it's V12 Vantage V600 this week. Finishing the week on an even bigger high, Aston Martin have revealed something entirely new and very real in the Aston Martin DB11 AMR.
The highly anticipated, flagship DB11 AMR adds some dynamic flair to the critically acclaimed DB11. A power boost, sharpened handling, aerodynamic enhancements and an exclusive interior make the AMR one of Aston's most desirable models.
The press release seems to confirm that Aston Martin will ditch the standard V12 DB11 (of which it sold 4,200) with the launch of the new AMR. The DB11 AMR will sit at the top of the tree, with a 5.2 litre V12 engine at it's heart. Power is boosted by 30 hp to 630 hp in total with 700 Nm of torque. This allows for a 208 mph top speed and a 100 km/h spring time of just 3.7 seconds.
2019 Aston Martin DB11 AMR
In terms of visuals, the AMR gets a plenty of exposed carbon fibre and gloss black detailing. Dark headlight trim and smoked tail lights complement a dark futon grille, tailpipes, roof, side sill and splitter. Inside, the dark leatherr and alcantara is broken by a bold central lime stripe.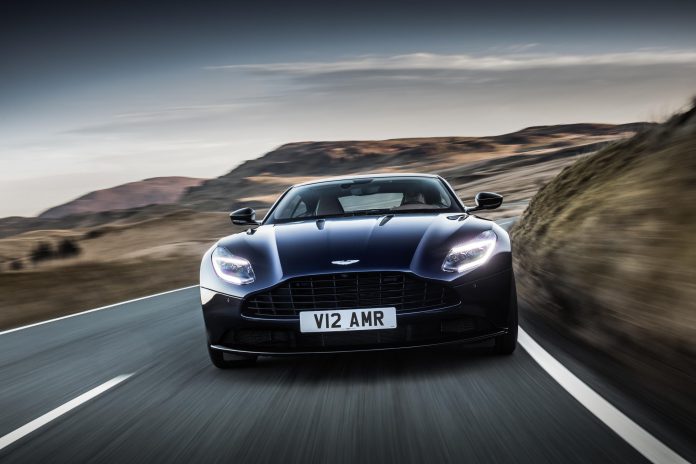 Aston Martin President & Chief Executive Officer, Dr Andy Palmer, said: "Since its initial launch back in 2016 the DB11 range has matured rapidly and intelligently, selling close to 4,200 V12 examples in that period. With the exceptional V8 Coupe and Volante we felt the V12 could reveal more of its sporting potential, while remaining the consummate GT. By applying a suite of carefully considered performance and styling enhancements the DB11 AMR is both faster – 208mph! – and more precise. It's a combination that engages and cossets in equal measure to create a dynamic and seductive new flagship for the DB11 range, while consolidating the existing V12-powered DB11s as future collectibles".
Aston Martin will offer a special edition DB11 AMR from launch too with three Designer Specifications, plus an exclusive AMR Signature Edition, which carries a striking Stirling Green and lime livery. The AMR Signature Edition is priced at £201,995 with just 100 available.
The standard Aston Martin DB11 AMR is scheduled for deliveries very soon with prices starting from £174,995 in the UK, $241,000 in the US and €218,595 in Germany.