A little while back, Novitec released details of its package for the Lamborghini Aventador S. Novitec are one of the more popular and trusted Lamborghini specialists, so it's big news that they have updated their offering for the latest generation Aventador!
The Aventador S benefits from improved performance, new carbon fibre parts and aesthetic modifications such as new wheels and a new exhaust system. The package stays true to the design Novitec originally created for the first generation Aventador.
Novitec Lamborghini Aventador S
Novitec have managed to coax 763 hp out of the Aventador's 6.5 litre V12 engine with torque increasing to 732 Nm as well. The additional power is achieved through a tailor made exhaust system. It cuts the 100 km/h time to just 2.8 seconds with top speed also increased to 350 km/h. The Inconel system weighs 21 kilograms less than the production exhaust.
The carbon aerodynamic package includes a new complex front splitter and spoiler, custom made side deflectors for the side intakes and air ducts and outlets for the front bonnet. Novitec have replaced the rocker panels, the carbon mirror covers and the side air intakes. At the back, a bespoke Novitec diffuser is available in two versions with larger air intakes for the hood and a massive rear spoiler.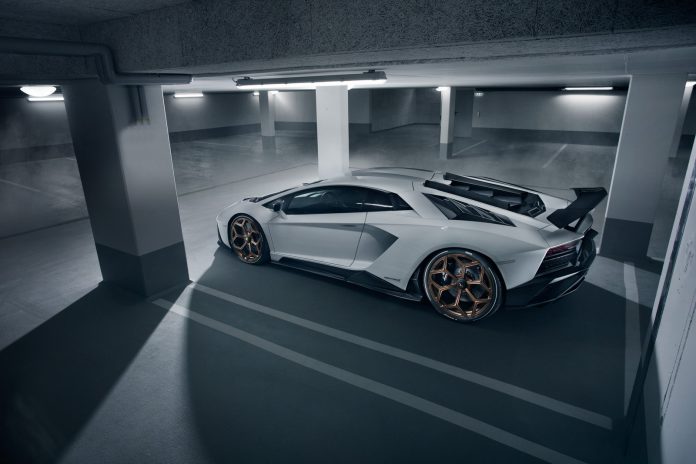 Novitec's NL3 wheels are manufactured Vossen using forging technology. They come in two variants, one with conventional lug nuts, the other with a centre locking nut covering the five wheel bolts. The front measures 9Jx20 inches while the rear is 13Jx21 inches. Novitec suspension upgrades lower the ride height by 30 millimetres!