The 2018 Volvo S90 T6 AWD is the latest in Volvo's new generation of cars and it continues the trend of impressive cars from the Swedish company. It's exterior design is quietly bold; a mixture of squared-off shapes and rounded edges. It's a design that exudes strength and quiet grace. Subtle lines and chrome embellishments give it an air of refinement.
The inside is luxurious. Everything is swaged in soft leather, natural woods, and rich plastics. The seats are comfortable, well bolstered for aggressive driving, and adjustable in multiple ways. The two-toned steering wheel is grippy and comfortable in the hands. Phone and radio controls are embedded in the spokes. The completely digital gauge display is clear and easy to read, with a navigation screen tucked in between the tach and speedometer. Depending on the driving mode you select, different gauge styles are available. The center infotainment/nav screen is minimalist in style but easy to understand. It's touch controlled and pages can be scrolled through with a simple flick of the finger. The center console has a shifter, the drive mode selector, electronic parking brake, and the novel engine start/stop switch instead of a button or key. The front seats are a luxurious environment in which to travel.
2018 Volvo S90 T6 AWD Inscription
The rear seats are also luxurious and comfortable. There's plenty of legroom, even for tall people. Separate climate controls reside in the rear of the center console. Door pulls and switches have a solid and durable feel. Best of all, the backseat gets treated to a dramatic view through the panoramic roof.
Volvo utilizes their exceptional T6 engine system in the S90. It starts with a 2.0L four-cylinder engine that Volvo then dual-charges. Dual charging applies both a belt-driven supercharger, which provides solid low-end torque and horsepower and a turbocharger, which provides good upper-end power. As the supercharger begins to run out of breath, the turbocharger takes over to carry the power band even higher. The result is a four-cylinder engine that feels like a responsive and dynamic V8 while providing excellent gas mileage. It makes 316 hp and 295 lb-ft of torque, which is more than enough to move the 4100lb car with some drama. Acceleration is surprisingly quick and strong. Strong enough to push you back in your seat.
This marvelous engine is paired to an 8-speed automatic transmission and Volvo's AWD system that sends power to the wheels that need it the most. It slips through the gears quickly and quietly and smoothly.
The suspension is firm but compliant, with a confident feel. In corners, body lean is minimal. The AWD handles power distribution invisibly behind the scenes, even in inclement weather. It provides the driver with the confidence to relax and concentrate on the driving.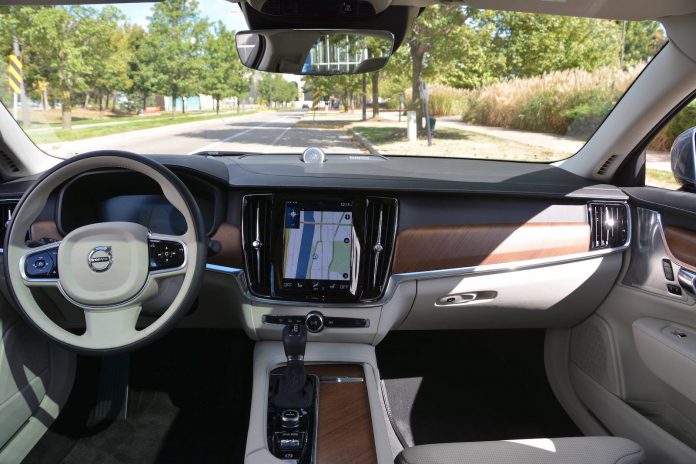 The anti-lock brakes do an excellent job at hauling the heavy car down from speed. They're very modulatable and communicative, very confidence inspiring. Step on them at 80 mph and they stop the car right NOW, while communicating everything that's happening.
In the center console is a roller that allows you to select from one of three driving modes – dynamic, normal, or eco. Whichever is picked changes the character of the car and it's driving in a very pronounced way. I found I preferred the dynamic mode but selected normal whenever others were riding with me.
Gas mileage was a respectable 25 mpg, which was impressive for my heavy-footed driving. EPA averages are 22 in the city and 31 on the highway, so I wasn't far off.
The ride is fantastic, focused on the comfort of its passengers. It absorbs bumps nicely and keeps things mellow and relaxed inside the cabin. It's performance is good, but not necessarily earth shaking, but then Volvo has never been about hardcore performance. It's quick off the line, it corners nicely, and it stops quickly. There's not much emotion behind it, but it does the job.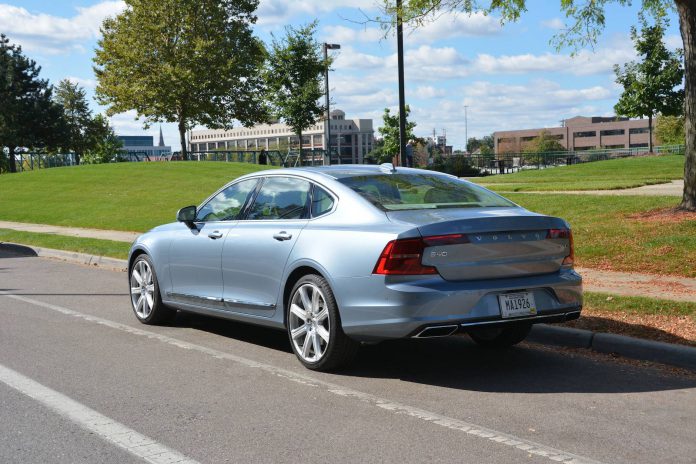 The Volvo S90 T6 AWD won't excite you with Ferrari-like performance, but it feels like a high-quality, well-thought out machine that is a pleasure to drive.