Audi's new A7 has received its North American introduction at the Detroit Motor Show 2018 this week. We will soon get an opportunity to test the A7 from behind the wheel, until then, we have to make do with our observations of the show car on Audi's stand here in Detroit!
In terms of what the new A7 is about, Audi have attempted to blend increases in room with a technological assault handed down from the new A8. The A7 impresses everywhere you look with a modern design, cutting edge assistance systems and the latest in Audi powertrains.
The exterior design channels Audi's current design language. It features large surfaces, sharp edges and plenty of lines. The single frame grille is wider and lower than the Audi A8. Narrow headlights and large air intakes are also characteristic of modern Audi's. The rear gets a light strip running the entire width of the rear. The body is constructed from steel and aluminium composite. It measures 5 mm shorter yet the wheelbase grows 11 mm.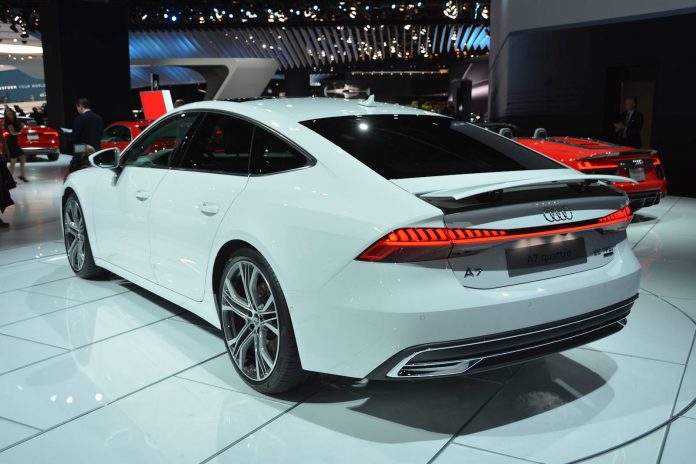 From launch, just one engine will be available, the 3.0 V6 TFSI petrol engine. It produces 340 PS and 500 Nm of torque, enough to propel the A7 to 100 km/h is 5.3 seconds and on to a limited to speed of 155 mph. It returns 41.5 mpg and CO2 emissions of 154 grams. Power is routed through a seven-speed S ironic twin-clutch transmission. Six and four-cylinder engines, both petrol and diesel, will follow shortly after the start of production.
All A7 Sportback models will also come equipped with a new mild hybrid system (MHEV). The V6 engines use a 48-volt primary electrical system with a belt alternator starter (BAS) working with a lithium-ion battery. It achieves a recuperation performance of up to 12 kW when braking. At speeds of between 34 and 99 mph, the A7 can coast in freewheeling mode with the engine deactivated and then restart comfortably via the BAS. The start-stop function now activates at 13mph.
For more information on the Audi A7, check out our earlier article. For more from the Detroit Motor Show 2018, check out our dedicated news channel.