We're in Los Angeles this week for the unveil of the new Mercedes-Benz CLS. Mercedes-Benz have chosen the Los Angeles Motor Show 2017 as the launchpad for its next generation four-door coupe. The CLS has always sold well in the US, the Los Angeles unveil hints that Mercedes-Benz are focusing on continuing this tradition.
The CLS has always forged its own niche. The third generation model is no different. It shares the same characteristics as the previous generation with a low front and rear end, bout together by contours and reduced design lines. The grille echoes this with a wide base and forward slanting front section.
The new generation model includes a set of wide, low-set headlamps and two-section tail lights. Mercedes-Benz focused on aerodynamics, producing a CLS with a cd value of 0.26.
Other typical CLS features include the diamond grille together with the high, arching waistline. The rear of the CLS includes a muscular rear shoulder line which blends into the flat rear end.
All CLS models are equipped with new engines. There is an in-line six-cylinder and in-line four-cylinder units available as diesel and petrol versions. The entry model from launch includes a 286 hp CLS 350 d 4MATIC, a 340 hp CLS 400 d 4MATIC and a CLS 450 4MATIC with a 367 hp + 22hp rating. The later 450 gets EQ Boost (integrated starter/generator) and a 48 volt onboard electrical system for the additional power. All three models use a six cylinder engine.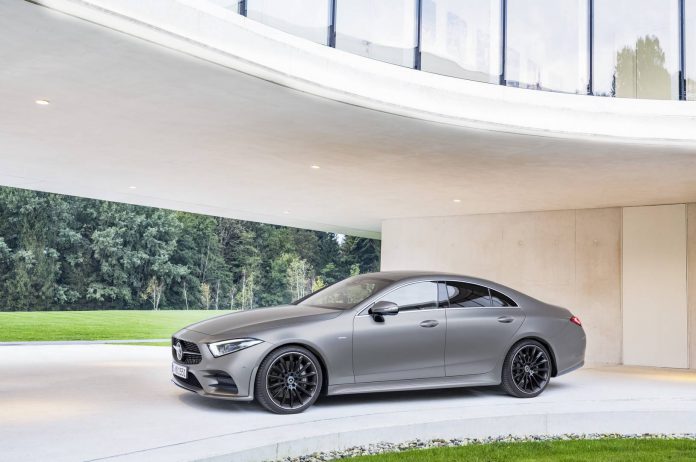 In terms of engineering, the CLS comes with three suspension options. As standard, it gets a four-link front suspension and a five-link rear suspension. Steel comfort suspension is standard equipment while Dynamic Body Control is an option. This includes continuously adjustable damping at the front and rear axle with Comfort, Sport and Sport+ modes. Also available is an air suspension system with an adjustable and adaptive damping system.
Inside, Mercedes describe the CLS as having a "widescreen cockpit". The illuminated air vents are reminiscent of jet aircraft turbines while two 12.3 inch displays arranged beneath a shared, continuous glass cover look sensational. The centre console gets open-pored or high-gloss wood.
Three different styles can be selected depending on preference, mood or to suit the interior appointments. The Classic and Sport styles have a basic structure with two tubes, while the Progressive style surprises and polarises with a structure having a central, tube-shaped instrument.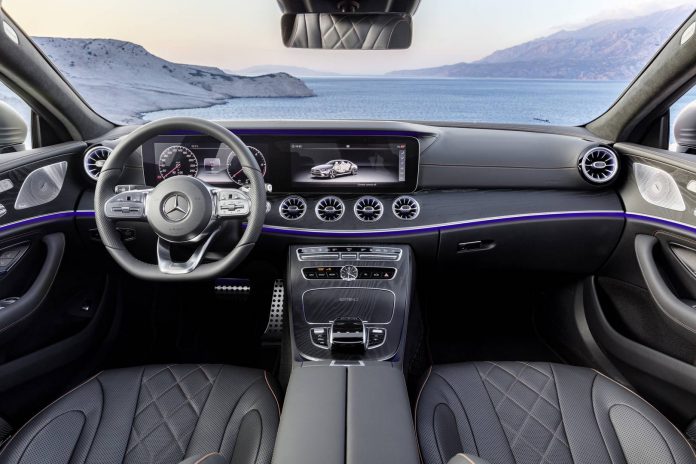 The ambience lighting is individually adjustable in 64 colours. When the temperature setting of the air conditioning system is changed, it briefly changes colour to show whether the temperature is being made warmer (red) or cooler (blue). The seat design is also exclusive to the CLS with a variety of piping and transverse seams.
In terms of practicality, the backrests can be folded down into a 40/20/40 split. This expands the luggage compartment to a generous 520 litres.
A unique Energizing Comfort Control system also debuts on the CLS. It uses the climate control system, the seats (heater, ventilation, massage) and steering wheel heating together with the lighting and musical atmospheres create a wellness set-up tailored to the mood. Six programmes can be selected; Freshness, Warmth, Vitality, Joy, Comfort and Training.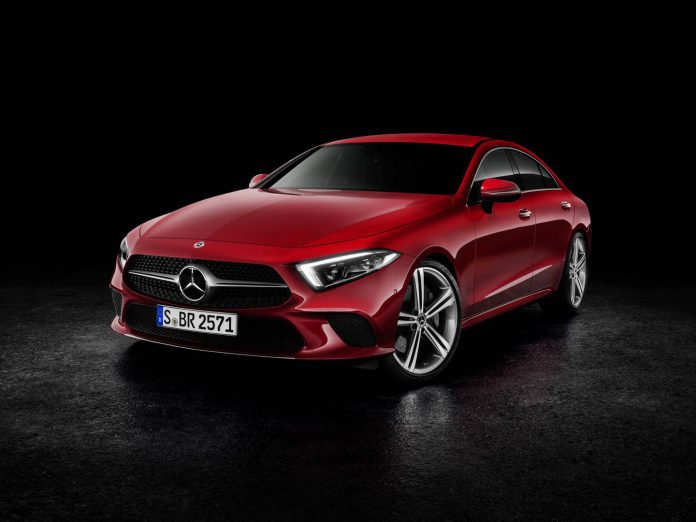 Mercedes-Benz also fit their latest Intelligent Drive technology. Active Brake Assist, Lane Keeping Assist, Attention Assist, Speed Limit Assist and the occupant protection system Pre-Safe are all available as well as a new Pre-Safe Sound system which prepares human hearing for the anticipated accident noise when there is a risk of a collision.
An optional Driving Assistance Package consists of Active Distance Control, Active Steering Assist, Active Speed Limit Assist, Active Brake Assist with cross-traffic function, Evasive Steering Assist, Active Blind Spot Assist, Active Lane Keeping Assist and Pre-Safe Plus. Improvements have been made to all of these systems for the CLS.
From launch, the CLS will be available with Mercedes-Benz' Launch Edition spec.