The BMW i8 has been on sale now since 2014. This year's Los Angeles Motor Show 2017 sees the first substantial change to the model range in the form of the release of the BMW i8 Roadster.
The two-seater sports car gets a full electric convertible top that opens up in under 16 seconds. The top is a soft-top and operates at speeds of up to 31 mph. The stowage solution means that the i8 Roadster actually benefits from increased storage space. Aluminium elements in the roof were actually 3d printed! The iconic gullwing doors have also been retained.
2018 BMW i8 Roadster and Coupe
The BMW eDrive powertrain also receives revisions with more power and a higher-voltage battery for increased capacity and range. The lithium-ion battery cell capacity is up from 20 to 34 Ah. In total, the i8 gets an additional 12 hp, up to 369 hp. The extended range means that i8 Roadster is good for 18 miles of pure electric driving.
Performance is increased with 0 to 60 mph taking just 4.4 seconds for the Roadster and 4.2 seconds in the revised Coupe. For reference, the Coupe is 0.2 seconds quicker. Both cars are electronically limited to 155 mph.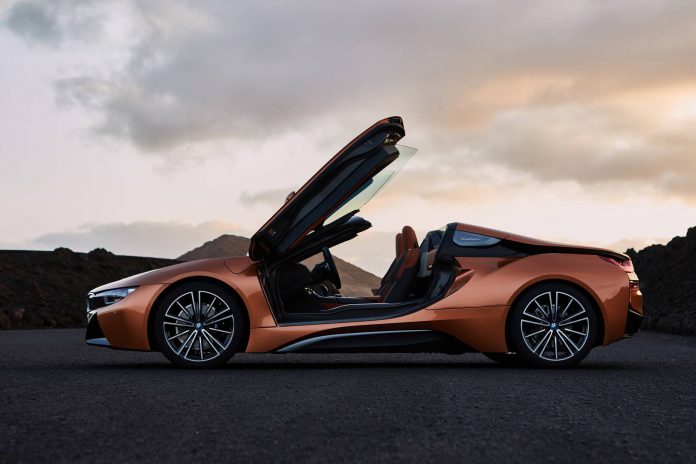 The BMW i8 Roadster gets two new exterior colours; E-Copper and Donnington Grey. Also on offer is a new upholstery option, Tera World Copper with E-Copper upholstery. Exclusive 20 inch wheel designs are also available, weighing 2.2 lbs less than the previous BMW i8.
In terms of style, the Roadster ditches the rear side windows. They are replaced by black panels with aluminium trim etched with the word 'Roadster'. Inside, the i8 Roadster receives the latest version of iDrive with a choice of touch control on a free-standing 8.8-inch monitor or rotary control via a dial on the middle console.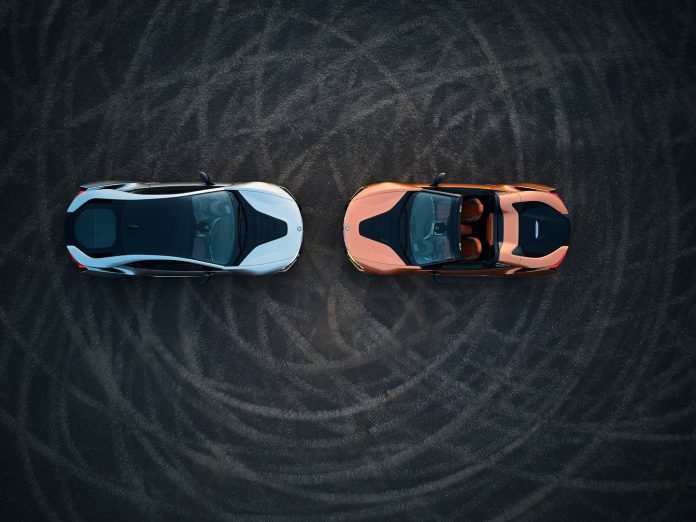 Sales of the BMW i8 Roadster are set to commence in spring 2018 with pricing announcements closer to the market launch.