The Bugatti Chiron is in high demand at the moment. Only a handful of the cars delivered so far have made it onto the used car market. One such example is the first US model which is due to be auctioned in New York in the coming weeks by RM Sotheby's.
This Chiron comes with 250 miles on the odometer and has never been road-registered. The car features a factory warranty together with a 1:8 scale Amalgam model, U.S.-specification rear bumper (the car is currently fitted with a slimmer R.O.W. specification bumper), and an aluminium Bugatti crate which contains a leather box with an extra key, speed key, flash drive, as well as the owner's manuals, car cover, and trickle charger.
The first Chiron ordered in the US comes with black with red highlights inside and out, as well as red brake callipers. The interior is a combination of black leather and carbon fibre. The 8.0 litre W16 engine is the same as every other Chiron. It packs 1,500 hp. Of course, the Chiron is limited to 261 mph. Bugatti believe that it is capable of 286 mph.
RM Sotheby's reckon that it will achieve between $3,500,000 – $4,000,000 when it crosses the block on 06 December 2017. That estimate is conservative if you ask us!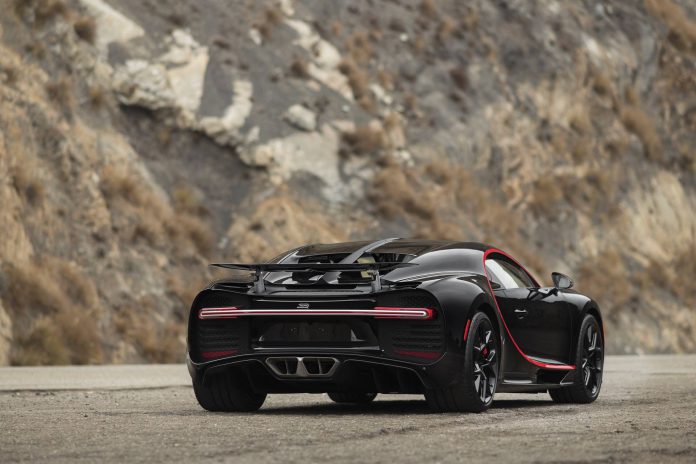 RM Sotheby's will also auction a Porsche 918 Spyder Weissach with an estimate of between $1,700,000 – $1,900,000 and a Jaguar C-Type with an estimate of $5,500,000 – $7,000,000.