The current generation of Porsche 911 has been around since 2012. On average, Porsche have waited 7 years between generations which means that the 911 is due a next-generation model either next year or in 2019. Judging by these spy photos, testing is already in its advanced stages.
Spy photographers recently captured the next-generation Porsche 911 Turbo out testing. The Turbo is generally the top-of-the range non-RS variant of the 911 range. The Turbo is expected to debut very close to launch of the next-generation model as the most powerful 911 model.
Little is known about what Porsche has planned for the 992 generation. We expect significant performance improvements over the previous generation in terms of performance. The 991.2 models received revised engines. We expect Porsche will opt for to use the same 3.8-litre flat six with significant modifications.
We are also expecting the 911 to sit on a new wider platform. It is likely to use a new modular platform with a wider range of powertrains. Porsche could potentially opt for a hybrid set-up, although we suspect the Turbo will use a conventional petrol engine.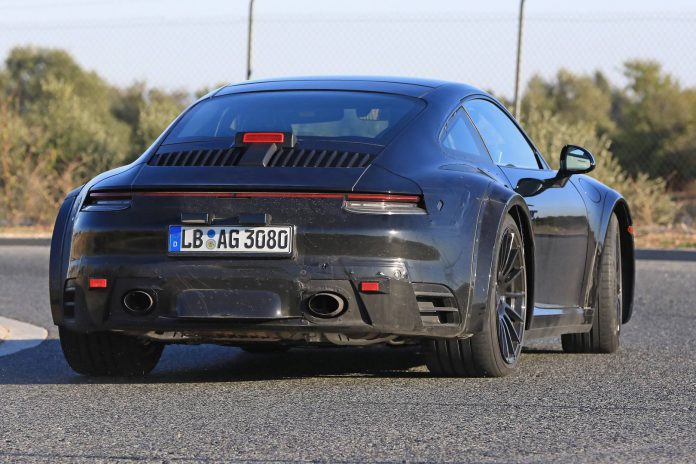 In terms of power, expect the new 911 Turbo to produce around 592 bhp, 61 bhp more than the current 991 version. A sub-3 second 0 to 100 km/h time is possible with top speeds in excess of 320 km/h. Porsche are expected to use four-wheel drive and all-wheel steering in the next-generation Turbo to ensure that it thrashes the competition.
The photos show a camouflaged test mule with a new set of headlights and exhaust. The 992 Turbo is expected to get more active panels and a full-width rear wing. The test mule gives the game away with the trademark Turbo side air vents.