SEMA 2017 is in full swing and, among the new releases, is a very special Hennessey Performance project. The US tuner has officially unveiled the successor to the Hennessey Venom GT, the Venom F5!
The new hypercar has been released as part of John Hennessey's newly formed Hennessey Special Vehicles. It has been designed from the ground up to be the fastest road car on earth. Hennessey have developed a completely new design, chassis and carbon fiber body. Coupled to this is an all-new V8 powerplant.
In terms of aerodynamics, the shape of the outgoing Venom GT is still clear to make out. The rough shape has been retained and modernised with longer flowing design lines. Hennessey have focused on aerodynamics, creating a design which yields a coefficient of drag of just 0.33. Bodywork is carbon fibre and weight is
Powering the Hennessey Venom F5 is a twin-turbocharged 7.4-liter V8 engine. It is the first engine developed entirely in-house by the US tuner. Hennessey claim that it will be rated in excess of 1,600 bhp (with 1,763 Nm of torque) which will allow for a 0 to 300 km/h time of less than 10 seconds and a 0 to 400 km/h time under 30 seconds. Hennessey are aiming for a 300 mph top speed.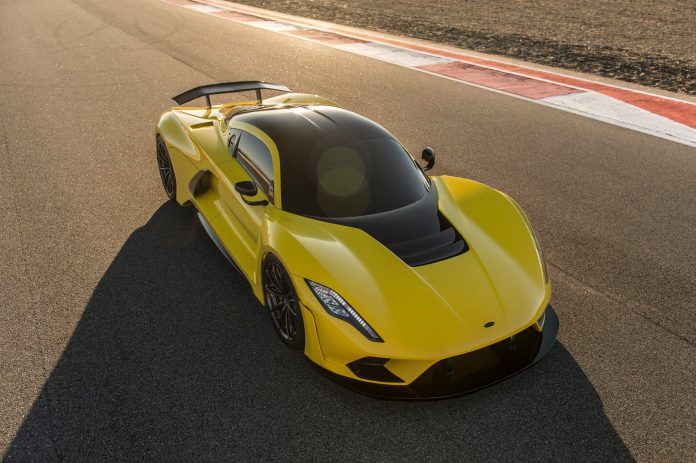 The Hennessey Venom F5 uses a paddle-shifted 7-speed single-clutch semi-automatic transmission with power routed to the rear wheels. The F5 features a stunning power-to-weight ratio at 1,195 hp per ton.
The F5 name comes from the Fujita scale, the scale used to measure Tornados. F5 (or EF5 as the US now designates) is the strongest of Tornados, featuring winds in excess of 200 mph. Hennessey are asking $1.6 million US dollars for the car with a limited production run of just 24 road cars.