Arden, known for their tuning packages base on Jaguar models, have unveiled the Arden AJ 24. The AJ 24 is built upon Jaguar's popular XE model. Given the hype that surrounds the XE and the limited edition Jaguar XE SV Project 8, it was only a matter of time until we saw a package arrive to emulate that exclusive style.
The Arden AJ 24 provides some minor visual upgrades for the Jaguar XE which help it to stand out from the rest. The black and yellow colour accents are most noticeable together with the custom Arden Sportline Black Edition alloy wheels and contrasting yellow centres and brake pads. Tyres measure 225/40ZR19.
To help the 19 inch wheels fill the arch, an Arden Sport spring kit is available which lowers the ride height by 30 mm. Wheel spacers bring the wheels further out and widen the track. An Arden trademark has always been the re-installation of the classic leaping cat to the bonnet, the AJ 24 offers the same treatment although the pictured car does not have this option.
Arden are recognised as a vehicle manufacturer by the KBA (Kraftfahrt Bundesamt) which means that they can offer power upgrades for the supercharged petrol and turbocharged diesel engine range. The supercharged 3.0-litre V6 engine in the XE S now features 422 hp alongside 573 Nm of torque.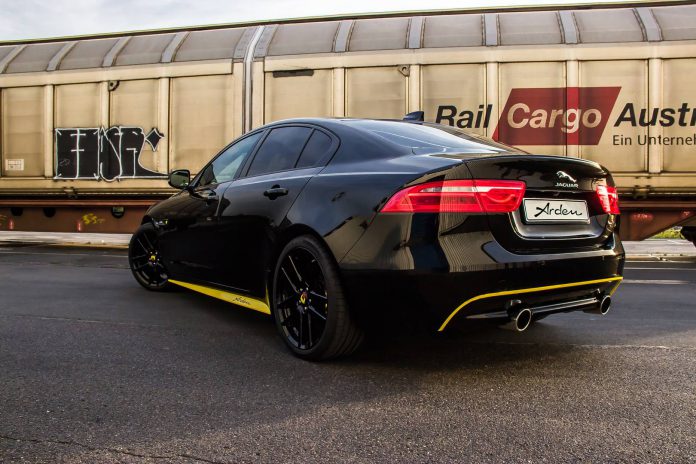 Other mechanical modifications include an Arden sports exhaust with free-flow silencer box. Two 100 mm tailpipes stamped with the Arden logo finish this off. Owners of diesel models are able to specify the Arden Active Soundsystem which is said to deliver an authentic engine sound to the cabin. Five sound profiles range from a sonorous V6 to a deep, burbling V8.
Inside, Arden are able to offer complete re-trimming services using Nappa leather, carbon fibre and woods.