Earlier this week, McLaren Special Operations (MSO) released two special projects created for a customer who wanted something special, based on the outgoing 12C platform. The unique MSO McLaren R Coupé and Spider will be one of the last projects MSO builds for the 12C before it turns its attention to the new 720S platform.
This particular MSO project is one of the biggest bespoke projects they have ever taken on. It appears to be based loosely upon the McLaren 688 HS, itself a limited edition MSO project.
Both MSO R cars have the same external, internal and mechanical specifications. Both cars are finished in Liquid Silver paint, the Coupé in satin and the Spider in gloss finish. Both cars have a carbon fibre central stripe and a twin-element rear wing, with front dive planes to further enhance aerodynamic performance.
MSO parts have been used in the front bumper, bonnet, louvered fenders, roof scoop and rear deck as well as the side mirror arms, casings and wiper scuttle. Delta Red pin striping features on the front splitter and side blades, while the splitter, side skirts, sill panels, rocker panels and plenum cover carry MSO R branding. The wheels are a 5-spoke design, finished in satin black on the Coupé and gloss black on the Spider.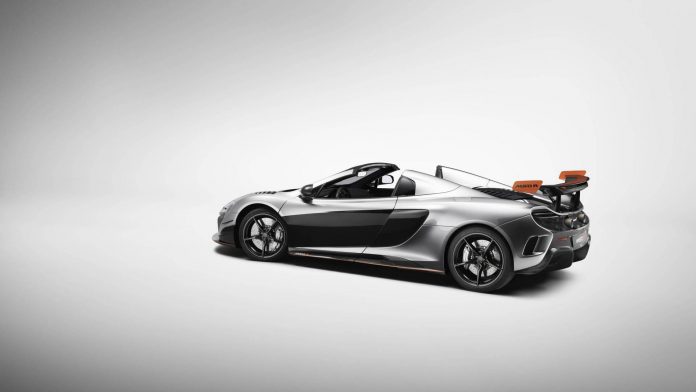 Inside, both cabins feature Alcantara trim material in black with red stitching. The seats are finished in red with black stitching. They include an MSO R logo embroidered in black on the headrest. The steering wheel features a carbon fibre upper and lower, with black Alcantara® grips and a Delta Red centring stripe. All switchgear is finished in gloss black with vent mechanisms in satin black and bezels in carbon fibre.
The engines of both cars receive hand-polished heads and exhaust ports together with a new exhaust system The twin-turbocharged V8 produces 688 PS and 700 Nm of torque as a result.
The owner will get a unique set of MSO R-branded keys. Both cars feature a bespoke IRIS screen, instrument cluster displays and gear-shift lights.