Volkswagen is entering the popular segment of compact SUVs in Europe and Asia with the new T-Roc. We had the first opportunity to put the T-Roc through its paces in Portugal and see what it is like to drive.
The T-Roc will be available with a range of three petrol and three diesel engines ranging from 1.0 liter TSI with 115hp and manual gearbox up to a 2.0 liter all-wheel drive with a 7-speed DSG gearbox. This top of the line T-Roc produces 190hp and 320Nm of torque which is plenty for the 1,495kg compact SUV.
Price wise it is set to compete with the Fiat 500X and the immensely popular Nissan Qashqai. Design wise Volkswagen aimed to create a sporty European looking SUV with short overhangs and a large interior space. It looks bigger than the Audi Q2 but it is actually the same size.
Inside there are many similarities with the Golf. Not surprising considering both share VW's MQB platform. The T-Roc's dashboard looks a bit cheaper, one of the corners VW had to cut to make it compete with other compact SUVs price wise. Having said that with the large infotainment screen and digital display it is still a very modern cabin to be in. The ergonomics work and within a few minutes I had familiarized myself with the controls. The haptic feedback of the touchscreen helps as well. Save yourself the money of Apple CarPlay as it is utter useless. Of the 150 apps on my phone only Spotify is supported and the Apple navigation is far inferior to VW's own navigation system.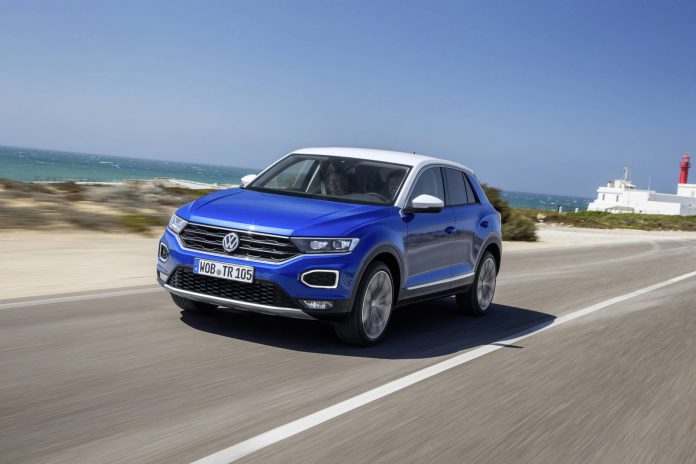 As expected from an SUV the ride height is clearly higher than your average hatchback but the suspension setup sits somewhere in the middle between sporty and comfort. On twisty roads you will notice there is more body roll but despite this it is still possible to have a bit of fun especially with the 190hp version. The DSG comes with flappy paddles behind the steering wheel. A great addition for trigger happy drivers like myself, however it doesn't change back to automatic mode after a while which is a bit inconvenient at times.
What to spec?
The Volkswagen T-Roc is available in three different trim lines; T-Roc basic, Style and Sport. Each line has a different level of basic equipment. Some of the trim lines even allow you to opt for two-tone exterior colors. Regardless of the trim line you wish to choose we had a look at some of the optional extras you should consider when ordering your T-Roc.
– Adaptive Cruise Control with Front Assist. This is a must for every new car. Makes driving in traffic jams so much more comfortable as the cruise control automatically brakes and accelerates depending on cars in front.
– Traffic Sign Detection. For the price of one speeding ticket the car keeps you informed about the speed limit and other special conditions that makes your journey safer and possibly cheaper.
– Light Assist. Basically an adaptive high-beam that makes driving in the dark more comfortable as it automatically dips the high-beam when there are other vehicles coming. Not quite as advanced as the matrix LED lights in more luxurious vehicles but still very useful.
– Large Navigation System (name depends on your country). Includes an 8" infotainment screen with full navigation and media functionality.
– Digital driver display. Replaces the analogue speedometer and rev counter with a fully dynamic and digital screen. This allows you to display the navigation map right in your line of sight.
Conclusion
The Volkswagen T-Roc is a clever addition to the Volkswagen line-up. Competitively priced, good looking and well equipped it will certainly sell well. Flaws are hard to find but if I had to complain about something it would be that the T-Roc is clearly more set for versatility than driving dynamics. Did someone say T-Roc GTI?