Novitec Rosso have released details of a new N-Largo package for the Ferrari 488 Spider. The Italian supercar receives Novitec's wide body package which is essentially the same as the N-Largo 488 Coupe we covered a while ago!
The Stetten, Germany-based tuner's kit adds a new front spoiler lip, redesigned front air intakes and new fenders with cut-away front wheel vents and a set of air gills on top. The new side skirts remind us of the iconic Ferrari 360.
772hp Novitec N-Largo Ferrari 488 Spider
At the back, the Novitec N-Largo Ferrari 488 Spider gets extensive carbon fibre applications. The rear light surrounds feature a carbon surround with smoked taillights. The rear spoiler is also carbon fibre. The rear facia has also been redesigned with a new rear diffuser and a set of vertical rear wheel vents.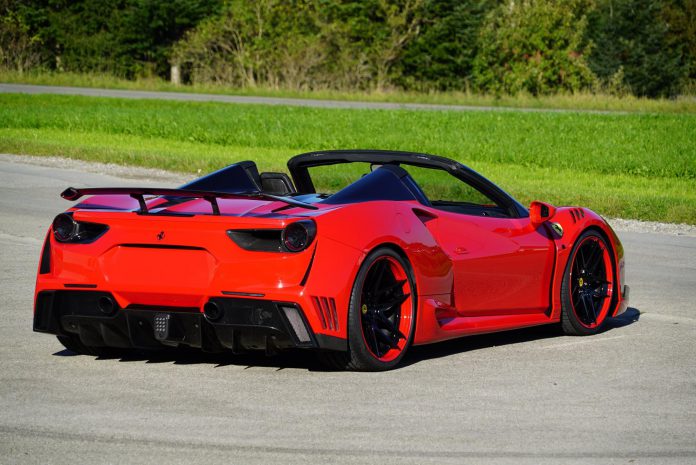 To cap the package a power upgrade module is available for the 3.9-litre twin-turbocharged V8. It gets a massive 772 horsepower (568 kW) and 892 Nm of torque up from 670 hp and 760 Nm of torque.
Top speed will likely increase too with the Coupe managing an impressive 342 km/h and acceleration from 0 to 100 km/h in just 2.8 seconds. The Spider will likely prove slightly slower due to the additional weight and the aerodynamic disadvantages.
Customers looking to personalize their Ferrari further can make use of Novitec's bespoke in-house upholstery shop.