Liberty Walk have released pictures of their tuning package for the new Honda NSX. It is thought to be the first aftermarket tuning for the NSX and it has been completed in typically outrageous Liberty Walk-style.
Liberty Walk have fitted the NSX with a new body kit. It is less extreme than the renders the company had previously released. It is missing the bolted fenders which normally feature on the company's project cars.
Instead, this particular NSX gets a new front splitter lip, bringing the front of the car closer to the tarmac. A new sid skirt which achieves the same effect, a huge rear wing and a flat rear diffuser.
The modifications are made all the more extreme by the VIP treatment of the chassis. The NSX sits extremely close to the ground with a set of deep-dish Forgiato wheels. The Liberty Walk Honda NSX won't be winning races but certainly turns heads!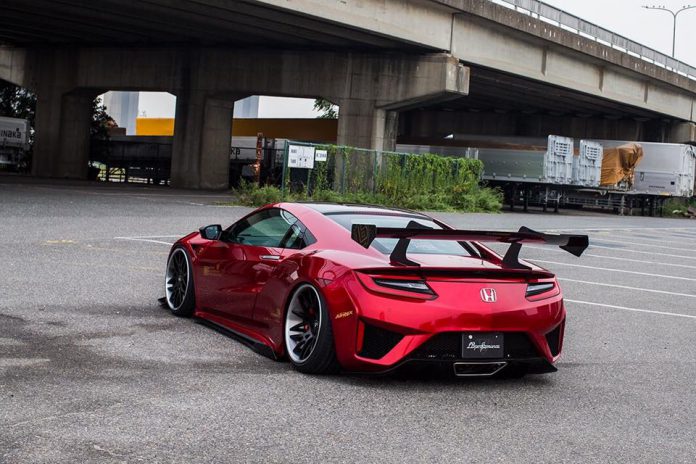 The new Honda NSX hasn't really taken off as a tuner car. The previous generation saw some of the most iconic Japanese tuning projects from the likes of Veilside and Mugen. Those companies are still running but seem to be more cautious with the current generation of NSX.
We have heard from US tuner, Hennessey Performance, who also have a package lined up for the Japanese supercar. Their package will focus on performance instead with an upgraded twin turbo system, stainless steel exhaust system, intercooler upgrades and light weight wheels.