Renault's hot hatches always perform well. The new Renault Megane RS was released today at the Frankfurt Motor Show 2017. Firmly focused on performance, the small Renault is one of the first hatchbacks to feature a four-wheel steering system. A Trophy version with 300 hp and 400 Nm of torque is promised by the end of 2018.
The new Renault Megane RS shares its engine with the Alpine. A four cylinder 1.8 litre unit, it packs a 280 hp such with 390 Nm of torque. Customers will get a choice of 6-speed manual gearbox or 6-speed EDC automatic. The Megane RS achieves 6.9 litres per 100 km on the combined cycle (which equates to approximately 41mpg).
Two chassis options are on offer with a Sport and Cup versions differing by virtue of an additional limited slip differential in the Cup chassis. Performance should be enhanced by the 4CONTROL four-wheel steering. A real time-performance display (R.S. Monitor Expert) can be connected to a camera for overlaid telemetry.
The Renault Megane RS bodywork is 60 mm wider at the front and 45 mm wider at the rear respectively compared to the Megane GT. New 18 and 19-inch wheels fill the wider arches. A new front bumper, side sill, lip spoiler and rear bumper create a different look. A central exhaust pipe and diffuser finish the look. A new body colour, Volcanic Orange replaces Renault Sport's iconic Liquid Yellow.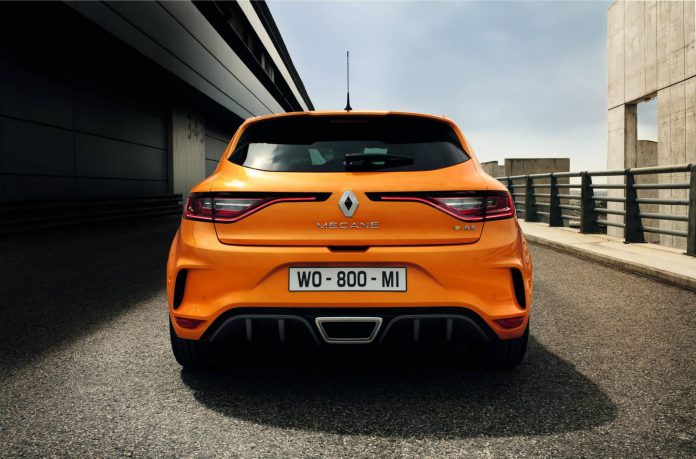 Inside, the front seats are new sports units with integrated head rests. The cockpit is finished in charcoal grey with red top-stitching and a choice of two upholsteries 'carbon fibre weave' or Alcantara. Order books for Renault Megane RS will open in spring 2018.