Porsche have delivered the new Porsche 911 GT2 RS to the Frankfurt Motor Show 2017. The top of the range performance Porsche was actually unveiled in June earlier this year at E3 with the announcement of the Forza Motorsport 7 video game. We also saw it at the Goodwood Festival of Speed 2017. We took a closer look at the details here in Frankfurt.
Porsche has released quite a compelling package with the GT2 RS. It is powered by a 700 horsepower, twin turbo, 3.8-liter flat-6 engine with torque rated at a heady 750 Nm. It and weighs only 1,470 kg (with full tanks). Porsche have opted for permanent rear wheel drive (and rear-axle steering), despite the setup, the GT2 RS actually manages a staggering 0 – 100 km/h sprint of 2.8 seconds, 200 km/h in 8.3 seconds and a top speed of 340km/h.
Larger air intakes are obvious additions to the styling of the GT2 RS. Porsche have included bold NACA ducts on the hood and a typical air intake under the front hood. The huge rear spoiler adds significant downforce and the huge side vents channel air into the cooling system.
Most customers will chose the optional Weissach package. This upgrade reduces the weight by another 30 kg and replaces parts with carbon-fibre reinforced plastic and titanium materials. Inside, alcantara and carbon fibre are the dominant materials.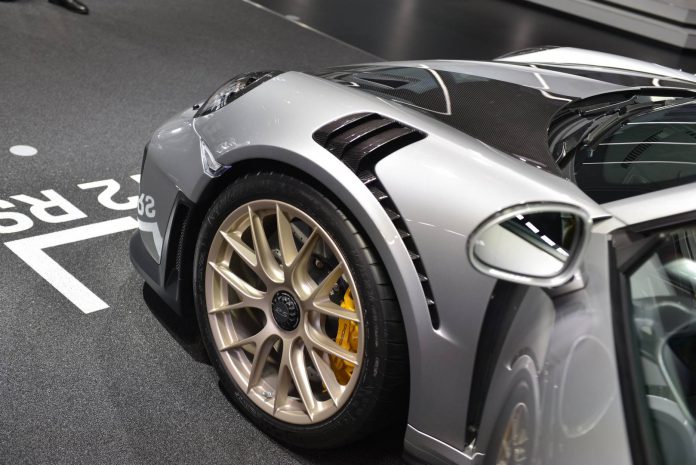 For more details on the Porsche 911 GT2 RS, feel free to click through to our earlier article. For more from the Frankfurt Motor Show 2017, make sure to check out our dedicated news feed.