The brand new Bentley Continental GT has been unveiled at the Frankfurt Motor Show 2017. The British GT car has been thoroughly revised for the 2018 model year. It now shares its MLB platform with the Porsche Panamera, ditching the Volkswagen Phaeton platform it used since 2003. We took a closer look at the car on display at Frankfurt this year!
The design changes are fairly radical. With the wheels positioned further forward, Bentley have been able to lower the bodywork and create a longer front bonnet. The overhangs are shorter as a result and give better weight distribution. The new Continental GT weighs 2,250 kg with a 53:47 weight distribution.
From launch, only the W12 variant will be on offer. With an all-new version of Bentley's 6.0-litre, twin-turbocharged W12 TSI engine, the continental should produce 635 PS and 900 Nm of torque. 0 to 100 km/h is expected to be dispatched in 3.7 seconds with a top speed of 333 km/h (207 mph).
Inside, the Continental GT still seats four. It showcases a completely new dashboard which uses a fully digital, driver-focused instrument panel and rotating display incorporating a 12.3" touchscreen. The touchscreen is well hidden with traditional analogue dials creating that classic Bentley style.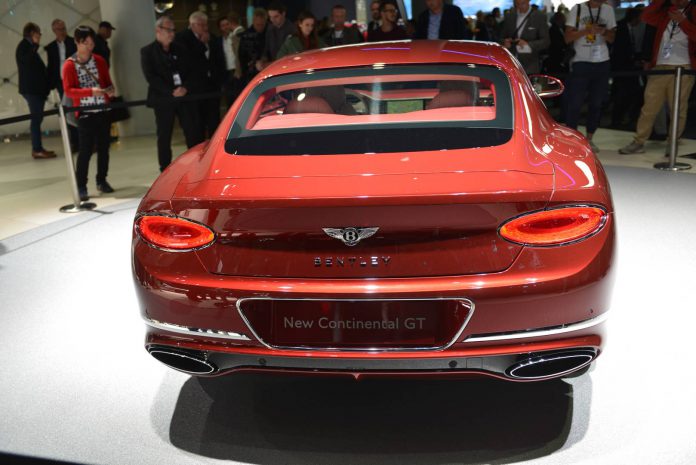 For full details on the Bentley Continental GT, take a read through our earlier article. For more from the Frankfurt Motor Show 2017, don't forget to check our dedicated news channel!