Audi Sport has officially unveiled a new rear-wheel drive Audi R8 V10 RWS. The new model makes is debut at the Frankfurt Motor Show 2017 which takes place this week. It is strictly limited to 999 units in both Coupe and Spyder varients.
The Audi R8 V10 RWS will be hand built at Audi Sport's Böllinger Höfe R8 factory. It will come fitted with Audi's 5.2 litre V10 FSI engine delivering 540 hp and peak torque of 540 Nm. 0 to 100 km/h will happen in 3.7 seconds with the Spyder taking 0.1 seconds longer. Top speed is 318 km/h.
Naturally, Audi have put some work into the chassis. The combination of Dynamic mode and Sport ESC now allows the driver to produce controlled drifts. The ESC only intervenes on the limit. The Coupé weighs in at 1,509 kilograms, 50 kilograms less than the all-wheel drive version, the Spyder, 40 kgs less. The addition of the propshaft, multi-plate clutch and center differential make the difference in the quattro equipped cars.
The R8 V10 RWS will get a matt black singleframe grille with matt black air apertures at the front and rear of the car. The upper sideblade of the Coupé is also finished in gloss black while the lower blade is finished in body color. Optionally, a red film running from front to rear is available to emulate the R8 LMS GT 4. Inside, the driver and passenger get sport seats covered in leather and Alcantara.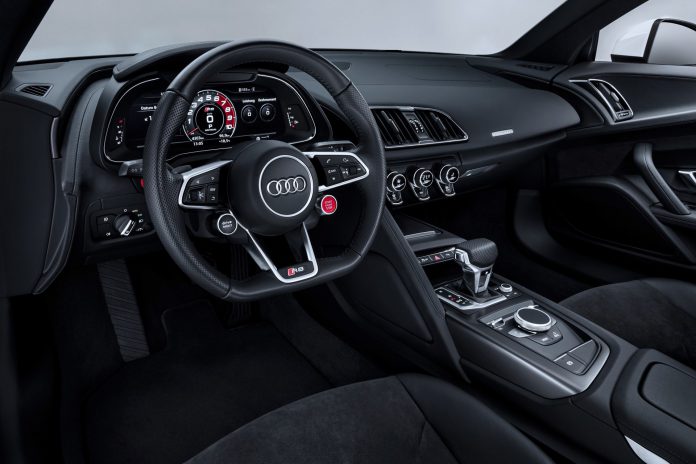 The Audi R8 V10 RWS gets black-painted, 19-inch, cast aluminum wheels as standard. They feature a five-spoke V-design and come fitted with 245/35 tires up front and 295/35 at the rear.
The Audi R8 V10 RWS will be available to order in Germany and other European countries from autumn 2017. Deliveries are expected to start in 2018 with customers paying 140,000 euros for the Coupe and 153,000 euros for the Spyder.