It's not very often that the worlds automotive press are whipped into a whirlwind of excitement and eager anticipation. Seeing and hearing outrageous claims for manufacturers is nothing new…who remembers the V16 5,000 horsepower Devel Sixteen, yeah me neither. It's easy to make claims. Things are a little different when you're receiving emails from addresses ending with @damiler.com, the you sit up in your seat a little and move the curser away from the spam basket. Conjecture has bloomed and I'm in Frankfurt standing next to what is arguably one of the most important cars since the turn of the century.
I'm standing in the frankly ludicrous Mercedes-Benz stand at IAA and after a mind blowing light show and introduction of a Smart, one Lewis Hamilton has parked the Project One a few yards away from me. Initial impressions are mixed. The rear of the car is straight up LMP1, there's so much aero, most noticeably the huge fin that promises high speed stability. Perspex engine cover, check, pushrod suspension, check. The front has elements of Porsche 918 as the silhouette of the McLaren F1.
There are aero aides everywhere you look, huge carbon shards to manipulate airflow, and outlets that are outlandish enough to be on something that belongs on an aircraft carrier.
There's more than 1,000 horsepower and because a hefty chunk of that is to all four wheels aided by electric motors, this sensational machine will hit 200 km/h in 6 seconds – yes, that's 0.5 of a second faster than a Chiron. Where the Chiron is as traditional as a coal mine in the way in uses a huge combustion engine to produce its power, Project One uses a 1.6-litre V6 just like Lewis Hamilton does. The redline is at an astronomical 11,000 rpm, expect it to sound tremendous.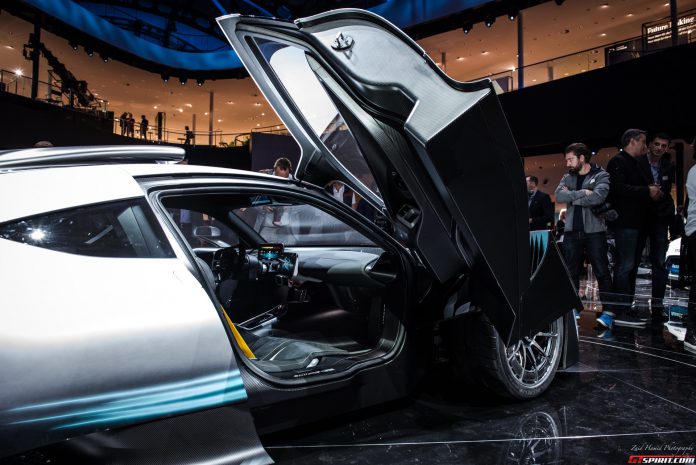 The tub is carbon and seats two in an extremely focused and racecar-esque cabin featuring two high resolution screens that display all the data you could need.
Whether or not you're a fan of the car and it's styling, it cannot be argued that if you were to see one of the 275 €2.75mil Hypercars you certainly wouldn't miss it. This truly is a racecar for the street and I want one!