Ahead of next week's Frankfurt Motor Show 2017, Lamborghini have unveiled their Aventador S Roadster. It follows hot on the heals of the Coupe's market release, itself a moderate facelift of the existing Aventador platform.
Among the headline figures, open-top motoring aside, zero to 100 km/h in 3.0 seconds and naturally aspirated V12 are right at the top. That naturally aspirated V12 is the same 6.5 liter from the Coupe with 740 hp and 690 Nm of torque. Top speed is 350 km/h while power is routed through a seven-speed lightweight Independent Shifting Rod (ISR) transmission provides robotized gearshifts in up to 50 milliseconds.
2018 Lamborghini Aventador S Roadster
The Aventador S Roadster adopts the four-wheel drive, active suspension, four-wheel steering system, and the new EGO driving mode introduced on the Aventador S Coupé. Active aerodynamics work to improve front downforce by as much as 130% and improve efficiency over the rest of the body.
The styling is the same as the Coupe with a new engine bridge running from the back window to the rear and the Roadster features an electronically operated rear window. A new removable set of hardtop panels shed 6 kg and come finished in carbon fibre.
Lamborghini offers five interior configurations with leather and Alcantara in single and bi-color combinations as well as various stitching and trim choices. Lamborghini's Ad Personam program further extends the palette and makes colour combinations on the Aventador S virtually endless.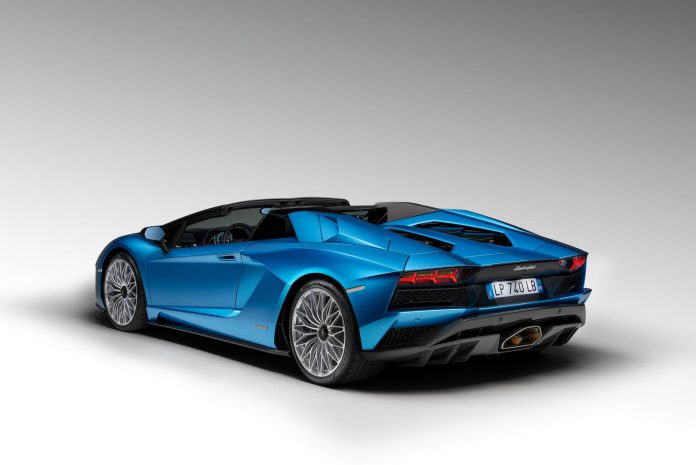 The launch colour for the Aventador S Roadster is Ad Personam Blu Aegir. The wing mirrors and windscreen frame are finished in high gloss carbon fiber with the front and rear bumper, side skirts, air intakes and outlets in visible carbon fiber. Internally, Blu Delphinus leather contrasts with Bianco Polar together with Blu Delphinus trim.
Customers will take delivery of the new Lamborghini Aventador S Roadster in February 2018. Pricing has been announced at 313,666 euros or 460,247 dollars in the US. Chinese customers will pay 7,478,513 RMB which equates to just short of a million euros!