Oxfordshire is England personified. A short blast from London, it is known for its stunning scenery, its world class educational institutions and its dense concentration of motorsport teams. Fitting then that Salon Prive, an event that is quickly defining itself as the English concours event, should find itself at Blenheim Palace in the heart of Oxfordshire for a third consecutive year!
Salon Prive has gained a solid reputation over the years, attracting a high calibre of entries from all corners of the globe. Its trophies are held in high regard.
10 classes separate the field of entrants this year. 3 motorcycle classes and 7 automobile classes. The automotive classes ranged from Graceful Pre-War Motoring to Supercar Pin-Ups.
Salon Prive 2017 Highlights
The most coveted award is the Best of Show. This is an award judged by an expert panel which this year included Derek Bell, Yasmin Le Bon and Frank Stephenson. Previous winners of the award have included a Ferrari 500 Testa Rossa, a Jaguar XK120 Jabbeke and a Jaguar D-Type.
This year, the award went to a stunning Alfa Romeo 3000CM 'Superflow', a unique Pininfarina design study. It actually started life with a Carrozzeria Colli body. It even managed a hard-fought 2nd place in the 1953 Mille Miglia at the hands of racing legend Juan Manuel Fangio. Acquired by Pininfarina soon afterwards, having worn four different bodies between 1956 and 1960, its current bodywork was the final iteration.
Runner up was a classic Ferrari 250 GT SWB California Spider, one of 37 covered headlight examples. It scored twice with a win of the Riviera Cruising category too.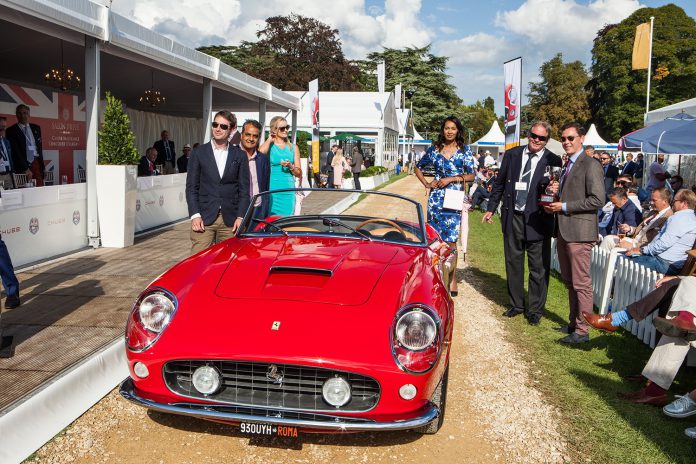 People's Choice is also highly contested. This year a 1973 Ferrari 365 GTS/4 Daytona Spider took the top spot. The final front-engined convertible Ferrari until the 550 Barchetta some 30 years later. Ferrari produced 1,406 closed Daytona's yet production of the Spider was limited to only 121 examples making this a very valuable example of the Daytona!
Its not just the Concours on display though, a huge variety of other attractions are on display including a boulevard of hypercars which included Koenigsegg's, open and closed Lamborghini Reventon's and Ferrari's of all descriptions!
The complete list of winners includes:
Graceful Pre-War Motoring – Horch 853A Sport Cabriolet
Classic Sports Racers Against the Stopwatch – Shelby 427 Cobra
Supercar Pin-Ups – Lamborghini Miura P400
Riviera Cruising – Ferrari 250 GT SWB California Spider
Luxury in Motion; Pre-War Rolls-Royce – Rolls-Royce Phantom II Continental
Best of British at Blenheim Palace – Jaguar E-Type 3.8 Series 1