In true Brabus fashion, it plans to debut a 900 hp Mercedes-AMG S 65, the Brabus Rocket 900 Cabriolet, for its home motor show, the Frankfurt Motor Show 2017. Styled as the 'world's fastest and most powerful convertible', this V12 powered monster is a relative sleeper!
Based on the Mercedes-AMG S 65, Brabus have fitted the Brabus Rocket 900, 6.3 litre V12 twin-turbocharged engine to the Cabriolet. It features 0.3 litres of enlarged displacement compared to the standard model. A special Brabus crankshaft, forged pistons and steel conrods are necessary. A new exhaust, turbochargers and manifolds finish the modification.
Brabus Rocket 900 Cabriolet
The Rocket produces an astonishing 900 hp of power and peak torque of 1,500 Nm as a result. The performance estimates seem modest with Brabus predicting a 100 km/h (62 mph) sprint of just 3.9 seconds together with a top speed in excess of 350 km/h (217 mph). Power is channeled through a modified seven-speed automatic transmission.
To distinguish the Brabus modifications slightly, Brabus offer a subtle bodykit. The components consist of naked carbon aerodynamic parts available in matte or high gloss. They include a new front splitter, front bumper, carbon air intake surrounds, door mirror covers, a carbon diffuser and rear spoiler lid. Brabus also fit 21-inch forged wheels (with lowering module brining the ride height 15 millimetres closer to the ground) and a unique Brabus styled interior.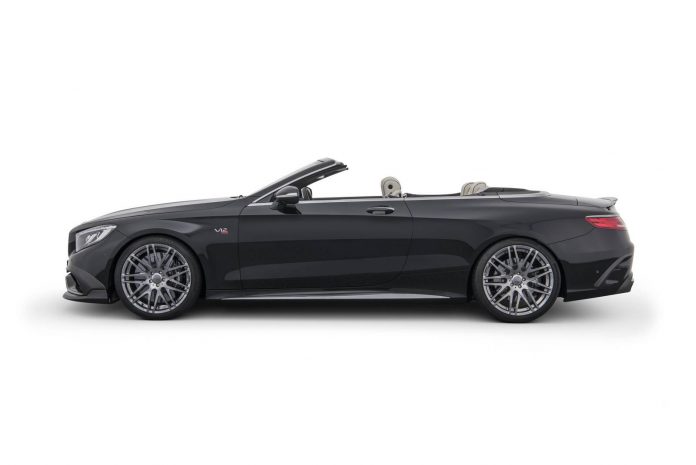 Stay tuned for live photos from the Frankfurt Motor Show 2017 which starts very soon!