Do Rolls-Royce finally have some competition? The Vision Mercedes-Maybach 6 Cabriolet has been unveiled ahead of its official debut at Pebble Beach this week. I'm sure you will agree that it looks stunning! Its a proper, modern homage to the era of glorious custom-built vintage cabriolets. Fitting considering the platform Mercedes-Benz chose to carry out the official unveil!
The Vision Mercedes-Maybach 6 Cabriolet especially lops the roof from last year's Pebble Beach concept. It features six metres of bespoke bodywork. A classic long bonnet, long flowing design lines and a strong art deco style make it very imposing.
The huge radiator grille is the first thing you notice. Its vertical struts were apparently inspired by a pinstriped suit. Narrow lights and pinstriped front air vents complement the chrome finish. The dark blue paintwork is called "nautical blue metallic" and contrasts with the chrome trim elements. The wheels are 24-inch centre-locking lightweight alloy units finished in rose gold.
Vision Mercedes-Maybach 6 Cabriolet
The rear features narrow, vertical brake lights either side of a round boat tail rear end. A diffuser is surrounded by an aluminium frame and air outlets for the rear wheel arches. The boot lid is finished in crystal white nappa leather and hides a custom fabric top with interwoven rose gold threads.
Despite its obvious nods to the 1930's, the Vision Mercedes-Maybach 6 Cabriolet is actually very advanced. It has been designed as an electric car with an equivalent output of 550 kW (750 hp). The underfloor battery allows a range of over 500 kilometres according to the NEDC (over 200 miles according to EPA). 0 100 km/h in under four seconds and a top speed electronically governed at 250 km/h are possible. Five minutes should be enough to provide 500 kilometres of range.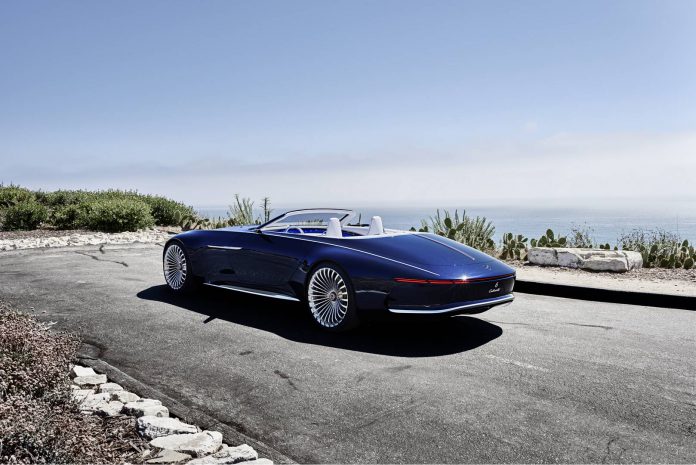 Inside, rose gold trim elements and quilted crystal white nappa leather cover the surfaces. There is no escaping the nautical feel that open-pore wood creates, although the use of technology reminds you this isn't a Riva!
An innovative display strip wraps its way around the cockpit. It sits in stark contrast to the classic round dials. The combination of digital displays with real needles creates a neo-classical feel. The main driving functions are shown on the windscreen via two head-up displays. Biometric sensors record the state of mind and health status of the passengers.
The Vision Mercedes-Maybach 6 Cabriolet is an addition to the visionary design show car series Mercedes-Benz seems to be in the process of collating. So far, we've seen the Vision EnerG Force, the AMG Vision Gran Turismo, Vision Tokyo and Vision Mercedes-Maybach 6 Coupé.