The Ford GT is only just being delivered to customers, yet Ford have already announced a special edition. The Ford GT '67 Heritage edition will pay homage to the rad and white striped livery made famous by the 1967 Le Mans-winning GT40 Mark IV. The '67 Heritage edition follows off the back of the '66 Heritage edition, we can only assume that '68 and '69 Heritage editions will follow!
For those with even the smallest amount of historic Le Mans knowledge, Ford's domination between 1966 and 1969 is legendary. The GT40 was built with the sole purpose to break Ferrari's choke-hold on the 24 hour race. It achieved that goal and ensured that Ferrari never celebrated another outright win. The car that the Heritage edition pays tribute to was driven by Dan Gurney and A.J. Foyt, an all-American team who managed 5232.9 km and 388 laps, the most of any Le Mans-winning Ford GT40.
The Ford GT '67 Heritage edition features a gloss-finish Race Red exterior with white stripes and exposed carbon package. Frozen White No. 1 graphics have been applied to the hood and doors with the 20-inch one-piece forged aluminum wheels finished in s silver satin clearcoat with black wheel nuts. Each car specced with the Heritage edition options will receive red callipers and silver rearview mirror caps to complete the look.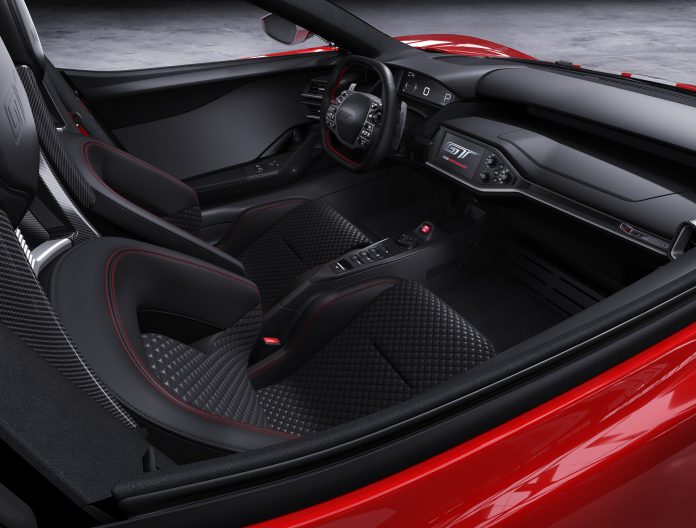 Inside, Ford fit new leather trim for the carbon fibre seats with red accent stitching, red seat belt webbing and anod0ised grey paddle shifters. Satin dark stainless steel is used for the instrument panel, door register bezels and x-brace. Each car will get a unique serialised identification plate for the exposed matte carbon fibre door sills, air register pods and centre console.
As the Ford GT is effectively sold out, we suspect that Ford will now offer this livery to those who managed to secure a production slot. The press release confirms that "limited quantities will be available for the forthcoming model year."