Novitec's widebody N-Largo bodykits have been extremely successful recently. It's only natural, now that the Huracan has a version, that the Huracan Spyder should get one too. The Novitec N-Largo Lamborghini Huracan Spyder has been officially announced with all the drama and stance you would expect from the German tuner!
The Novitec N-Largo Lamborghini Huracan Spyder will apparently be limited to just eleven vehicles. Each will feature a carbon fibre bodykit, optimised for aerodynamic efficiency. The N-Largo gets a new front bumper with a central blade. The fender flares are three centimetres wider on each side and a total of 12 centimetres wider at the rear with integrated three-gill ventilation slits.
Novitec N-Largo Lamborghini Huracan Spyder
N-Largo rocker panels complement the fender flares while integrated brake air scoops improve rear brake cooling. At the back, Novitec offers a trunk lid, rear bumper and integrated rear diffuser. Additional carbon components are available for the tail light surround and the door mirrors.
The wheels are nine-inch-wide Novitec N-LARGO NL2 wheels measuring 20 inches and shod with 245/30 ZR 20 tyres. These wheels are also available with 12.5×21 inch wheels and 325/25 ZR 21 tyres. Novitec slam the ride height of the Lamborghini Huracan Spyder by a further 35 millimetres.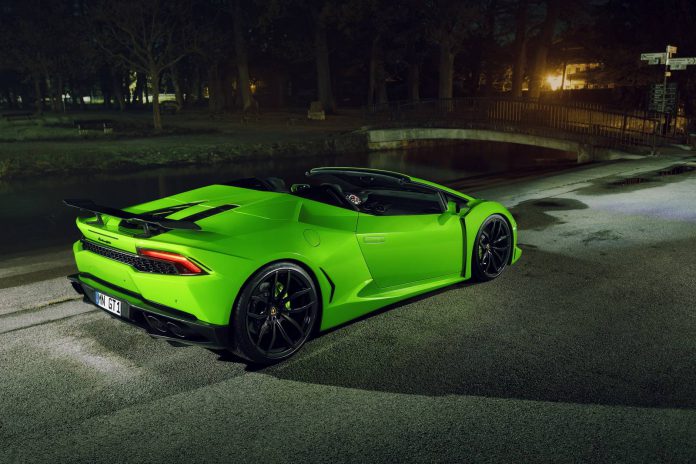 For the engine, Novitec are developing a tuning program which will incorporate a Novitec supercharger conversion for the 5.2-liter V10 engine. Power will be boosted to around 860 hp with peak torque of about 960 Nm.