In the early 1990s, BMW considered selling an M8: A monstrously powerful variation of the original 8-series, fitted with a 6.0-liter V-12 that would have made around 550 horsepower, channeling its power to the rear wheels through a manual gearbox. But alas, the car was never made; BMW went for the 380-horsepower 850 CSi instead.
Now, finally, the time for an M8 has come: This is the prototype of the upcoming production car, based on the regular 8-series – a car previewed by the Concept 8 series at the Concorso d'Eleganza on Lake Como two days ago.
Unlike the Como concept, this prototype is entirely covered with camouflage stickers, but we can see enough: M mirrors, large spoilers, fat tires, four round exhaust tips – and huge air intakes.
The M8 will be closely related to the M5 – and thus powered by the M GmbH's next-gen 4.4-liter, twin-turbocharged V-8 that will make north of 600 horsepower. It will be mated to an 8-speed automatic. All-wheel drive will be standard, although a rear-wheel drive only mode is included.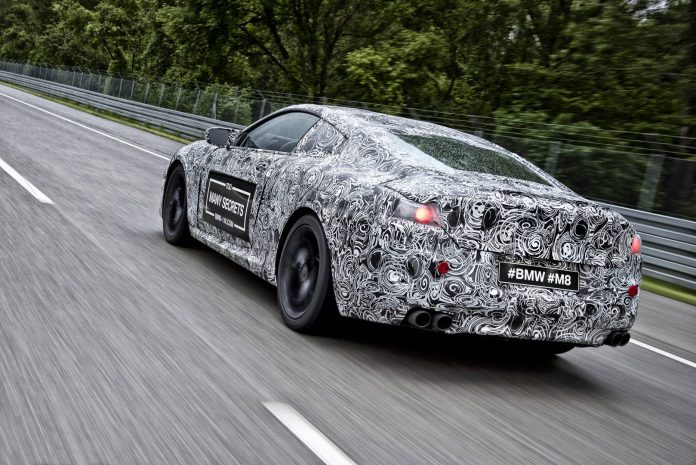 BMW will make a racing version of the new M8, called the M8 GTE. It will be shown before the end of the year.
The new M8 prototype was unveiled at the 24-hour race at the Nürburgring. But a car that we crave just as much was exhibited at Lago di Como on this very day: The original M8 prototype.