Mille Miglia 2017 is upon us, one of the most important automotive events of the year which is set to take place from May 18th to 21st. Once again, GTspirit will be attending this momentous rally while providing full coverage through this live blog, hour to hour and day by day.
This year's edition is extra special because it marks the 90th Anniversary of Mille Miglia.
Mille Miglia 2017 Route
The route remains unchanged, Mille Miglia 2017 will start from Brescia to Rome, and back to Brescia again. Of course there will be stop overs throughout the route including Padova and Parma.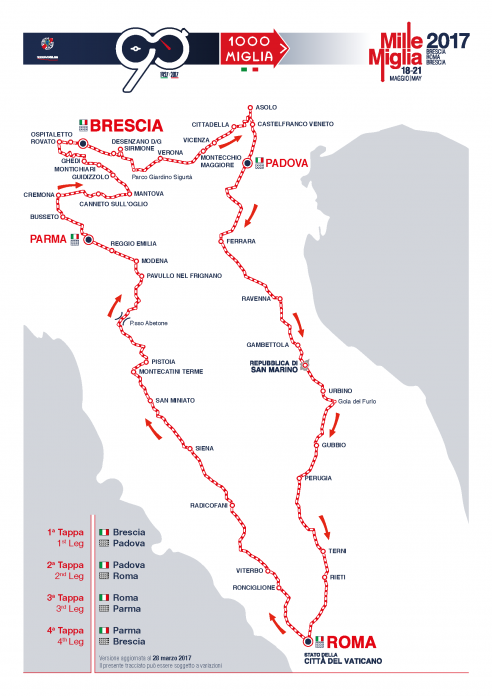 The first leg will see drivers rally from Brescia to Padova having passed through Montecchio Maggiore. Roma will be the final stop for leg two, which will start from Padova. That leg will see drivers pass through Ferrara, San Marino, Gubbio and Temi. The third leg will run from Roma to Parma, stop overs will include Radicofani, Montecatini Terme, Pavullo nel Frignano and Pavullo nel Frignano.
GTspirit at the Mille Miglia 2017
Over 450 cars will be taking part in this year's Mille Miglia. GTspirit will has a bigger team this year, one with BMW and another with Mercedes-Benz. For Mercedes-Benz, we will concentrate on photography and ambiance of the rally while the BMW team will get to enjoy a full nostalgic drive in a 1937 BMW 328, car #142. A full list of participants can be found here.
We will share more about our cars and preparations in our live blog below! You can track Mille Miglia 2017 action here.
Mille Miglia History
The Mille Miglia, Italian for 1000 Miles, was an open-road endurance race which took place in Italy twenty-four times from 1927 to 1957. Like the older Targa Florio and later the Carrera Panamericana, the Mille Miglia made Gran Turismo sports cars like Alfa Romeo, BMW, Ferrari, Maserati, Mercedes Benz and Porsche famous. Many of these cars fetch multi-million doller prices at auctions today.
Unlike modern day rallying, where cars are released at one-minute intervals with larger professional-class cars going before slower cars, in the Mille Miglia the smaller, slower displacement cars started first. This made organisation simpler as marshals did not have to be on duty for as long a period and it minimised the period that roads had to be closed. From 1949, cars were assigned numbers according to their start time. For example, the 1955 Moss/Jenkinson car, #722, left Brescia at 07:22 (see below), while the first cars had started at 21:00 the previous day. In the early days of the race, even winners needed 16 hours or more, so most competitors had to start before midnight and arrived after dusk – if at all.
The Italians continued to dominate their race after the war, now again on a single big lap through Italy. Mercedes made another good effort in 1952 with the underpowered Mercedes-Benz 300 SL Gullwing, scoring second with the German crew Karl Kling/Hans Klenk that later in the year would win the Carrera Panamericana. Caracciola, in a comeback attempt, was fourth.
Few other non-Italians managed podium finishes in the 1950s, among them Juan Manuel Fangio, Peter Collins and Wolfgang von Trips. In 1955, Mercedes made another attempt at winning the MM, this time with careful preparation and a more powerful car, the Mercedes-Benz 300 SLR which was based on the Formula One car (Mercedes-Benz W196), entirely different from their sports cars carrying the 300 SL name.
After 10 hours, 7 minutes and 48 seconds, Moss/Jenkinson arrived in Brescia in their Mercedes-Benz 300 SLR with the now famous #722, setting the event record at an average of 157.650 km/h (97.96 mph) which was fastest ever on this 1,597 km (992 mi) variant of the course, not to be beaten in the remaining two years.
The race was banned after two fatal crashes in 1957. From 1958 to 1961, the event resumed as a rallying-like round trip at legal speeds with a few special stages driven at full speed, but this was discontinued also.
Since 1977, the "Mille Miglia" has been reborn as a regularity race for classic and vintage cars. Participation is limited to cars, produced no later than 1957, which had attended (or were registered) to the original race. The route (Brescia-Rome round trip) is similar to that of the original race, maintaining the point of departure / arrival in Viale Venezia in Brescia.
Live Blog
Update: 20th May, Day 4 16:15 PM
The final sprint. We're on the final stage of the Mille Miglia 2017 and the final lunch stop was nothing short of astonishing with all of the SLs lining up under the sun. We even bumped into our BMW 328 being driven by Des! It's going to emotional finishing the thousand miles and not waking up to hundreds of race cars in the morning!
Update: 20th May, Day 4 10:45AM
The 300 SL squad have left Parma for Cremona followed by Mantova. Yesterday was the longest stage of MM with a 14 hour journey. Many many Red Bulls were consumed, today is the final and shortest day. The SLs look magical, particularly in the dark with they gigantic headlamps!
Update: 20th May, Day 3 11:30AM
The Mercedes-Benz crew just rolled trough the beautiful town of Viterbo. The showers have held off but we're all struggling with a lack of sleep. Next stop Radicofani Zi followed by Siena!
Update: 20th May, Day 3 10:45AM
I'm tired and cold and it is raining again. If it wasn't so much fun I would feel really miserable right now. Coffee Please…
Update: 20th May, Day 3 Start 9:45AM
Day three is a go and will take us from Rome to Parma. The weather has been terrible with heavy, unpredictable and torrential downpours drenching the majority of cars. Last night the skies around the city were illuminated by flashes of lightening as many roads flooded. The forecast is set to clear…we hope it will!
Update: 19th May, Day 2 8:00PM
Live from Terni…the atmosphere is a pure thrill!
Update: 19th May, Day 2 11:25AM
The Mercedes-Benz team are motoring along in a jaw dropping convoy with no less than five 300 SLs including those being driven by Berndt Mylander, Toto Wolff. There was a special stage in Ferrara and the San Marino lunch is an hours away – starting to regret skipping breakfast for an extra 10 minutes of sleep! Our lunch will be in San Marino.
Update: 19th May, Day 2 Start 8:00AM
The Mercedes-Benz crew are on the road towards the start line. As the sun set yesterday you could really feel "the magic" of Mille Miglia. Thousands of locals for Padova crowded the gorgeous park as the cars rolled through. Many chanted "Forza Ferrari!" As Toto Wolff led the crew through in the Panamericana. Here's a gallery from the afternoon and the magic of the darkness.
Update: 18th May, 11:15PM
We arrived 50 min early at the final checkpoint of the day!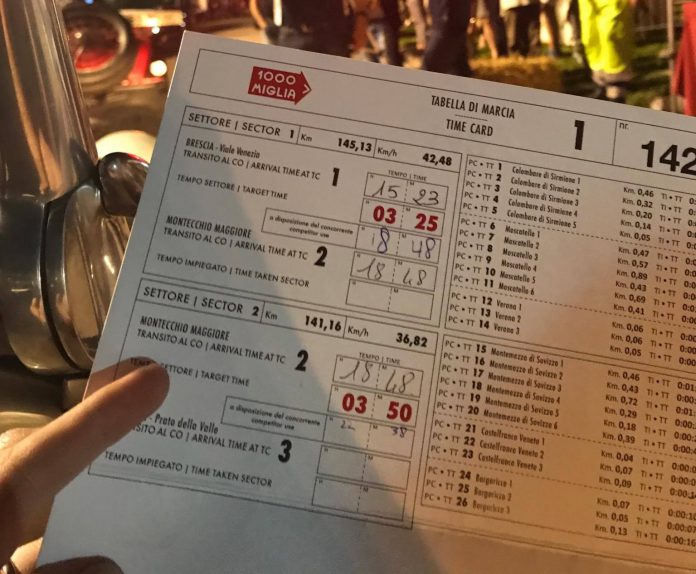 Update: 18th May, 8:22PM
We made it to the end of sector one just in time! Here are some impressions.
Mille Mille 2017 - Impressions Sector 1
Update: 18th May, 2:06PM
A live video of the Mille Miglia 2017 starting grid.
More from the starting grid.
Update: 18th May, 12:06PM
We're ready and raring to go in the centre of Brescia. The atmosphere is buzzing with thousands of locals and MM fans flocking to catch a glimpse of the cars. We are team 142 and have just left in the BMW 328 to visit the Millie Miglia museum for lunch. Zaid was there with Mercedes-Benz for dinner yesterday evening where the Panamericana Concept was the star. There are a few snaps from the dinner and live from Brescia below!
Mille Miglia Wednesday (1)
Update: May 17, Wednesday Highlights, Preparations and More
Having arrived in Brescia it was time to settle the final formalities prior to the start tomorrow.
First I had to get to Fiera di Brescia; the exhibition space that is the location for the scrutineering and driver registration for the Mille Miglia every year. In the huge hall hundreds of classic cars (and some modern Ferraris and Mercedes-Benz cars which take part in the Mille Miglia tribute) are shining away.
After my initial registration I receive a card that is missing nine different stamps. First I need to do a medical check – two pretty Italian doctors check my heart and blood pressure after which I get the ok. This sounds easy but before you can do this you first need to pay and visit two different desks.
Mille Miglia 2017 - Preps
Next up is the temporary race license which every participant that doesn't have a valid racing license needs. After a bit of queuing my details are checked at another desk and now I'm off to get my passphoto taken. Then the police checks my drivers license, ID and confirms I can drive. Next up we receive the welcome pack and are only two car related stamps away from getting the all clear. In the meantime I take some time to stroll around the Viera saying hello to some old friends and admire the stunning machinery ranging from 1920s OMs and Bugattis to 1950s Porsches and Gullwings.
My BMW 328 is shining away along 5 of its siblings; the BMW 328 Mille Miglia and 328 Berlin-Rom with their racing bodies providing excellent companions.
I'm very excited to finish the sealing in the center of Brescia tomorrow and start tomorrow afternoon. With start number 142 we start around 53 minutes after the first car leaves Brescia tomorrow afternoon. Stay tuned for more!
Update: May 17, Wednesday, 5:07PM
We are now live at Mille Miglia 2017 with BMW, Ferrari and Mercedes-Benz! Scrutineering and verification process underway.
Live Blog Starts Here…