Everyone expected the new Porsche 911 GT3 to be fast, but this fast? The new generation 991.2 GT3 beat the Nürburgring Nordschleife lap time set by its predecessor by 12.3 seconds!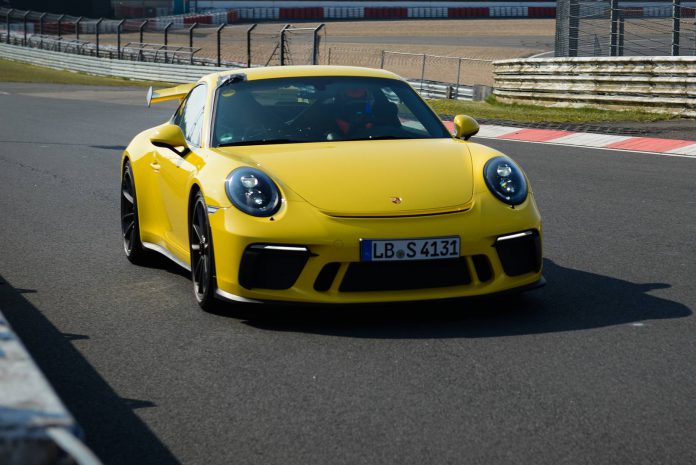 The new Porsche 911 GT3 recently celebrated its first day on the Nürburgring with a stunning lap time of just 7 minutes and 12.7 seconds. That effectively makes it faster than the current GT3 RS and the Ferrari 488 GTB.
"By achieving this time, we have emphatically proven that the new 911 GT3 not only provides the best driving experience, but can also deliver an impressive performance on the Nordschleife. The focus was on optimising the driving quality and adapting to the slight increase in engine power", says a delighted Frank-Steffen Walliser, Vice President Motorsport and GT cars at Porsche. "A few years ago, lap times like this could only ever be achieved by thoroughbred racing cars with slick tyres", adds Andreas Preuninger, Director GT Product Line. "The new GT3 can now achieve this with comparatively modest power, but is still fully suited to everyday use."
The new 911 GT3 has far more racing technology in its genes compared to the previous model. The 500 hp strong naturally-aspirated flat-six is the same engine also found in the 911 GT3 Cup racing car and rear-axle steering significantly benefits the car's cornering behavior.
The weather and track conditions were ideal on the day Porsche test driver Lars Kern got behind the wheel. The air temperature measured 8 degrees celsius, and the asphalt temperature was 14 degrees celsius. The GT3 test car was equipped with the 7-speed PDK and Michelin Sport Cup 2 N1 tires.