G-Power know their way around with BMW's. The latest example is the G-Power BMW M4 based on the 2015 model (F82). With a power increase of about 250 horsepower the tuner has managed to fire the sports coupé into the supercar league.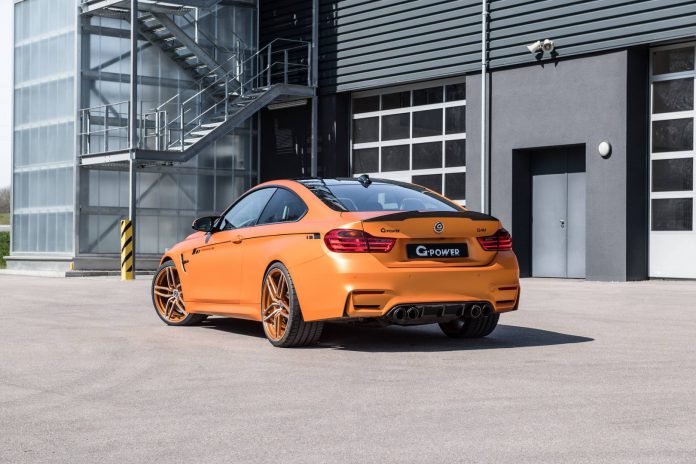 The twin-turbocharged straight-six leaves the factory with a solid 431 hp and 550 Nm of torque as standard. If you want more, make sure to schedule an appointment with G-Power. The BMW specialist has managed to squeeze an insane 680 hp and 740 Nm of torque out of the 3.0-liter straight-six, courtesy of their Bi-Tronik 2 V4 upgrade module.
A large part of the upgrade process comprises tinkering with the car's software. The standard compressor wheel of the turbocharger is also replaced with a larger precision CNC milled unit, developed and manufactured in-house by G-Power's engineering team. In standard guise, the turbocharger is incapable of allowing a sufficient flow of air to reach the new power levels.
At the same time the engineers addressed the exhaust turbine wheel, which uses curved turbine blades with capped ends to ensure reduced exhaust gas temperatures. This in itself allows the use of higher boost pressures.
The result in performance is otherworldly: the G-Power M4 blasts from 0 to 100 km/h in just 3.5 seconds and keeps on going on well past 330 km/h thanks to the removal of the Vmax. All this goes accompanied by a fruity exhaust note thanks to a custom lightweight titanium exhaust system.
A custom G-power G4M RS fully adjustable coilover suspension replaces the standard M suspension to keep the raised performance in check. As always, the German tuner is happy to supply customers with a set of 21-inch HURRICANE RR forged alloy wheels.