BMW just revealed another limited-run special edition M4: meet the 2018 BMW M4 CS, the sports car that will further close the gap between the M4 coupé and limited-run BMW M4 GTS.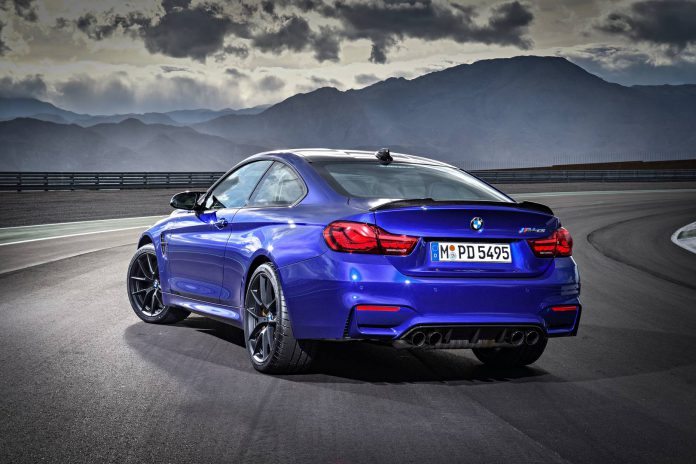 The new BMW M4 CS is yet another confirmation that the Bavarian brand introduces a new nomenclature for its models. It all starts with the 'regular' M Sport models, followed by the M competition models. Then come the CS special edition models, which take performance even further. Kicking off with the BMW M4 CS, we can soon expect a CS version of the highly popular BMW M2 as well.
The BMW M4 now comes in four different flavors. The standard model is good for 431 horsepower and the competition model produces 450 hp. The new BMW M4 CS takes it a step further with 460 hp and then there is the 500 hp strong M4 GTS.
The M4 CS' performance is impressive. It accelerates from 0 to 100 km/h in 3.9 seconds and has an electronically limited top speed of 280 km/h, thanks to the standard M Driver's Package. Linked to the twin-turbo engine is the 7-speed M Double Clutch Transmission (M DCT).
The new M4 CS comes with the adaptive M sports suspension as standard, which largely mirrors the suspension of the M4 with competition package. According to BMW, their extremely light suspension played an important role in setting an impressive lap time at the Nürburgring Nordschleife. It took the M4 CS 7 minutes and 38 seconds to lap the famous track, bringing it at the verge of supercar territory.
Further contributing to the car's handling is the car's Dynamic Stability Control system (DSC), which comes with M Dynamic Mode and the M Differential as standard.
The new BMW M4 CS cuts a dynamic figure thanks to its aggressive styling. At the front it features large three-section air intakes and an exclusive carbon-fiber front splitter. At the rear we see the M4 GTS' rear diffuser and a carbon-fiber spoiler lip. Brand new and exclusive to both CS and GTS editions are the bright OLED taillights.
The M4 CS comes with light-alloy wheels that measure 19-inch at the front and 20-inch at the rear. As standard they are shod with Michelin Pilot Sport Cup 2 semi-slicks providing the best possible grip. Not planning on taking the car to the track much? The M4 CS can also be ordered with Michelin Sport road tires at no extra cost.
The interior is just as much performance-oriented. It features lightweight M sports seats with Alcantara leather and several natural fiber trims. The rest of the interior is just as clean and driver-oriented as we have come to expect from BMW over the years.
The new 2018 BMW M4 CS starts at €116,900 in Germany, no information regarding start of production and deliveries has been released so far.