The Italian highway police will soon have a brand new toy to 'play' with on the Italian autostrada: Lamborghini just delivered a brand new Lamborghini Huracan to the highway patrol division of the country's capital Rome.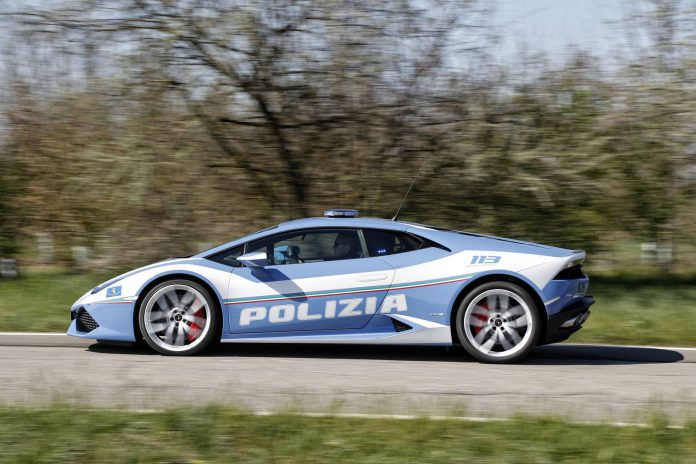 The unique Huracan with police livery will soon be transferred to the highway patrol of Bologna. The highly capable supercar is to be used for 'normal' police operations and for the urgent transport of blood and organs. This is not the first Huracan to join the car pool of the Italian highway patrol. Back in 2015 the highway patrol in Rome already took delivery of a brand new Huracan boasting the same livery.
Along with the delivery ceremony an official handover took place of the 2009 Lamborghini Gallardo Polizia from the Lamborghini Museum in Sant'Agata Bolognese to the Highway Patrol Auto Museum in Rome.
Specifics of the police force's latest addition include the official colors of the highway patrol division (Police Medium Blue) which comprise several white areas and specific lettering. Additionally there is the center stripe along the side of the sporty police car in the colors of the Italian flag. Pirelli P Zero tires ensure maximum grip and handling, nothing but the best for the country's finest.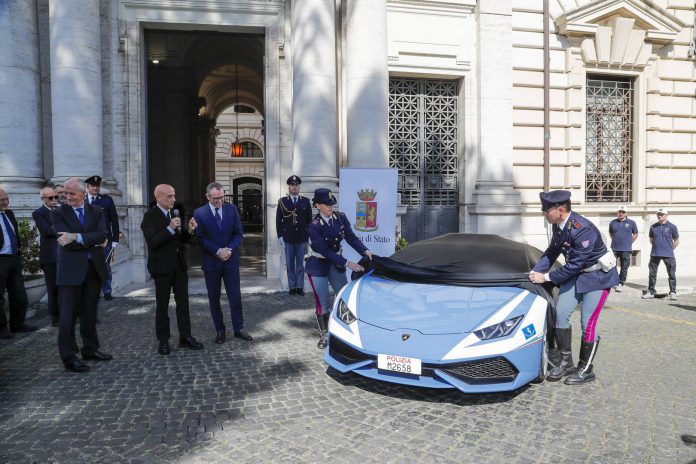 Under the hood we find the very potent 610 hp naturally-aspirated V10, the power of which is diverted to all four wheels. In addition to all the standard equipment and features, the police Huracan gets some extra equipment in the form of a tablet supplemented by a computer, recording equipment and a video camera. Other cool add-ons are the unmissable gun holster, portable extinguisher, standard VHF police radio and hooks that retain the classic hand-held stop sign shown to troublemakers on the road.
As mentioned before, the Huracan is expected to be frequently employed in the transport of blood and organs to save lives. To facilitate this, the front luggage compartment hosts a special refrigeration system for urgent organ transport. Of course the Huracan also has some necessary medical equipment on-board to help in emergency situations, including a defibrillator and extended first-aid kit.