Aston Martin have unveiled a new performance brand at the Geneva Motor Show 2017. The new AMR brand is designed to bridge the gap between Aston Martin's racing projects and its road cars, doing what AMG and M-division for for their German counterparts. The first two models to arrive include the Aston Martin Rapide AMG and the Aston Martin Vantage AMG Pro concepts, both are confirmed for production.
All AMR cars will get enhanced performance, sharper dynamics and more powerful design language. The name uses the initials of Aston Martin Racing. Aston reminds us that the team won the 2016 FIA WEC GT Drivers Championship, while also securing three class victories at the 24 Hours of Le Mans since 2004.
The Rapide AMR is the first tier of AMR. This involves the enhancement of Aston Martin's normal machinery with a comprehensive suite of power, chassis and styling upgrades. It features a 600 hp version of Aston Martin's 6.0 litre V12 engine and a new quad exhaust system. Finished in Stirling Green with a lime green colour scheme, it is capable of 210 mph.
The Rapide AMR rides on new 21 inch alloy wheels with a new full height signature grille, front splitter, side sills, rear diffuser and aero flip on the rear decklid. Inside, lightweight carbon fibre front seats, Dark Knight Alcantara with Lime Green accents and carbon fibre waterfall, centre console and door casings make it a world away from any regular Rapide.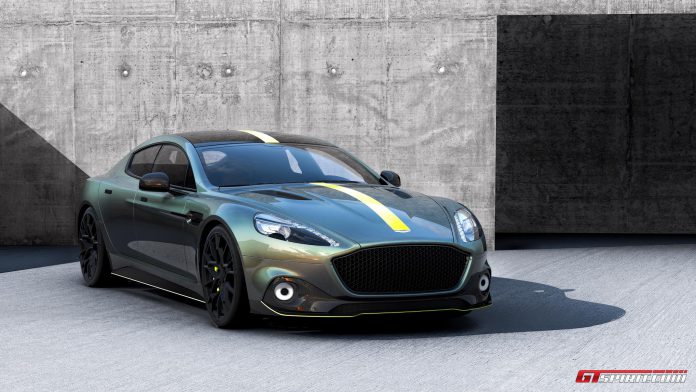 The Vantage AMR Pro is a completely different animal and is heavily influenced by Aston Martin Racing's WEC winning V8 Vantage GTE. Development of all AMR Pro models will be led by Q by Aston Martin Advanced Operations.
The Vantage AMR Pro is powered by a 507 hp version of Aston Martin Racing's GT4 race engine. It gets race-spec adjustable suspension, competition engine and transmission mounts. It also features Stirling Green exterior paintwork with lime green accents. It uses the same bonnet and rear wing as the World Endurance Championship winner.