Another Porsche debut for the Geneva Motor Show 2017 is the new Porsche 911 GT3 based on the 991.2 facelift model. This one will be of real interest to Porsche enthusiasts as it heralds the return of the manual gearbox, something that the previous generation GT3 lacked!
The Porsche 911 GT3 type 911.2 gets the four-litre flat engine from the GT3 RS. The power output is boosted by 25 hp to a total figure of 500 hp. The chassis is redesigned, it now uses rear-axle steering and a lighter construction. Power is routed through a seven-speed double-clutch transmission (PDK) which is fitted as standard.
The Porsche 911 GT3 type 991.2 weighs in at 1,430 kg with a full fuel tank. Only slightly heavier than the outgoing model. It manages a 0 to 100 km/h sprint time of just 3.4 seconds with a top speed of 318 km/h.
Porsche 911 GT3 type 991.2
The headlines will be written about Porsche's decision to finally offer the Porsche 911 GT3 with a six-speed manual gearbox. Whilst slowing the 0 to 100 km/h time down to 3.9 seconds top speed increases to 320 km/h. Enthusiasts will likely flock to choose this option.
The Porsche 911 GT3 type 991.2 sits around 25 mm lower than the 911 Carrera S. The active rear-axle steering will make a difference to the handling. Depending on the speed, it steers either in the opposite or the same direction as the front wheels improving the vehicle's agility and stability.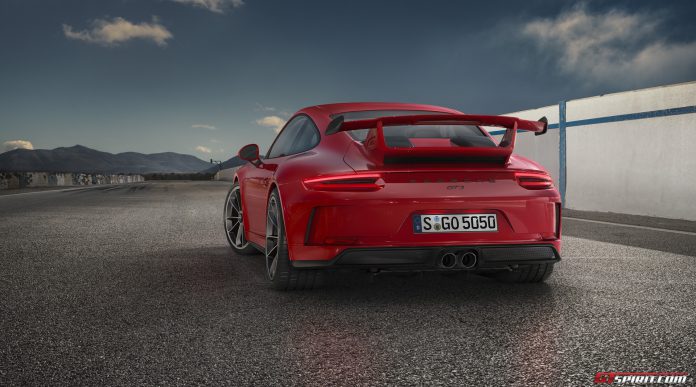 The look has changed slightly with a new front facia and front spoiler. New exhaust openings and a rear diffusor characterise the rear. Inside, a new GT sports steering wheel originates from the 918 Spyder. Three seat variants are on offer for the 911 GT3: The adaptive Sports seats Plus with electrical adjustment, sports bucket seats with folding backrest and full bucket seats made from light carbon fibre-reinforced plastic in carbon-weave finish.
Finally, the Porsche Track Precision app is included as standard. The 911 GT3 is available to order now. It will be launched in Germany from mid-May. Prices start at 152,416 euro, including German VAT.