2017 Audi R8 V10 owners looking to get their car customized are now welcome at ABT Sportsline. Ahead of the 2017 Geneva Motor Show the tuner from Southern Germany revealed their take on Audi's range topper.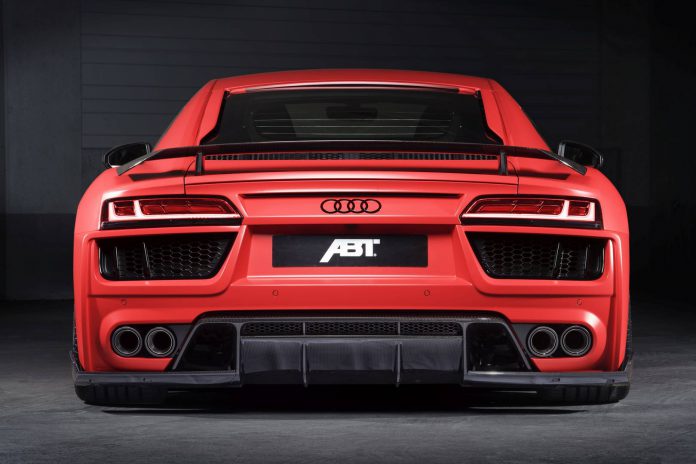 The already low sitting R8 V10 is visually brought closer to the road through ABT's custom bodykit. At the front we can see a new front skirt with extended splitter and side blades which make the R8 more aerodynamic. Side skirts further emphasize the R8's road presence, with a custom rear skirt with carbon fiber elements finishing off the supercar's new jacket.
The lowered rear assemble now houses double twin-tailpipes that replace the original rectangular exhaust tips. To wrap up the aesthetics, ABT Sportsline offers various sets of wheels including the forged 19-inch ABT HIGH PERFORMANCE ER-F wheels in the color 'black magic' and new 20-inch ABT HIGH PERFORMANCE GR forged wheels in 'anodized black'.
The engineering team of ABT is responsible for further increasing the Audi's performance. The tuner managed to squeeze out an extra 20 hp bringing the total output to 630 hp. The extra 20 hp are courtesy of a custom stainless steel exhaust system and optimizing the air flow.
Along with increasing the car's performance, ABT tweaked the R8's suspension by lowering the center of gravity of the vehicle using coilover suspension springs and precisely adapted sport stabilizers on both the front and rear axle. The custom setup leads to better handling characteristics on the road and shaves an additional 50 kilograms of the car's total weight.
On the inside ABT shows off their best materials and garmenting skills through a completely custom ABT individual leather interior complemented with carbon fiber inserts. The interior additionally boasts custom ABT entrance lighting in the door sills and high quality floor mats bearing the ABT logo.