Ford have shown a limited edition Ford GT at the Daytona 500 this weekend. The Ford GT Competition Series comes hot off the heals of its class win at the Rolex 24. The special edition essentially adds further lightweight components to the standard production car, many of which are used exclusively in the Ford GT race car!
Among the weight-saving innovations are lightweight, race-inspired Perspex acrylic engine hatch cover and a bulkhead constructed from Gorilla Glass (the same material also used for the windscreen). The limited-edition Ford GT model also features lightweight carbon fiber racing stripes, A-Pillars, and side mirrors with a unique engine hatch featuring integrated venting.
Underneath, the Ford GT Competition Series remains standard with no additional performance improvements. It gets a 3.5 liter twin-turbocharged EcoBoost V6 engine making 647 hp and 550 lb/ft of torque. With reduced weight, the Ford GT Competition Series will likely feel slightly quicker than the standard model.
Ford GT Competition Series
Inside, the Ford GT Competition Series features Alcantara suede with red accents and exposed carbon trim. Luxury items such as the air conditioning, radio and speakers, stowage bins and cupholders have all been removed. Even the infotainment system is gone! Carbon fibre wheels and titanium lug nuts and exhaust are standard on the Competition Series.
The Competition Series is offered in six colors – Shadow Black, Frozen White, Ingot Silver, Liquid Blue, Liquid Grey and Triple Yellow. We understand that it is available exclusively to North America customers for all years.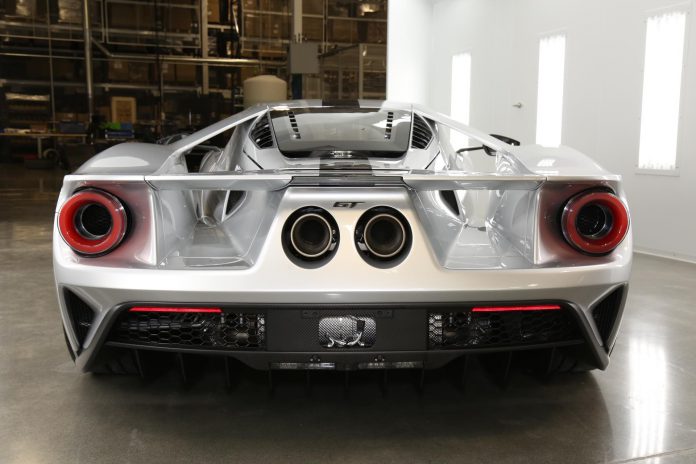 Ford is showing the Ford GT Competition Series in Daytona this weekend.
Raj Nair, Ford executive vice president, global product development, and chief technical officer said: "The Ford GT has racing in its blood. The Competition Series was developed with the most hardcore track enthusiasts in mind, providing a tailored set of lightweight features and unique livery to match."