Mercedes-AMG F1 has launched their new challenger for the 2017 Formula 1 Season. Christened as the F1 W08 EQ Power+, the new car brings to light the current direction of Mercedes-Benz as a brand. The EQ name is not new, it was revealed at last year's Paris Motor Show where Mercedes-Benz launched a new brand solely for electric models. That said, all future Mercedes-AMG road cars will also carry the name "EQ Power+".
The W08 EQ Power+ was launched at the Silverstone circuit this morning where both Lewis Hamilton and Valtteri Bottas had a go in the car during the 100km filming process. It features a new power unit dubbed M08, and due to a change of regulations the new unit is heavier than the older one. Mercedes says the new car goes back to the same principles used on the first generation turbo hybrid F1 car, the successful W05 Hybrid.
2017 Mercedes-AMG F1 W08 EQ Power+
Most of the parts on the new car were designed before the 2017 regulations were finalized and as such the team faced a lot of challenges. Only 17% of the parts were carried over from the W07 Hybrid, they have done over 2,000 runs in the wind tunnel so far. Teams are only allowed to carry out 65 runs per week in the wind tunnel.
The design features a new rear wing and front panels, but it's the floor and barge boards that had the biggest changes. The livery reflects the colors used on the Generation EQ concept back in Paris 2016. Elsewhere, despite being heavier, the new M08 power unit is designed to accept bigger loads and increased duty cycle. The 2017 cars will spend 10% more time at full throttle per lap, thanks to a 5% increase in fuel allowance this season. Each team will have 4 power units per driver.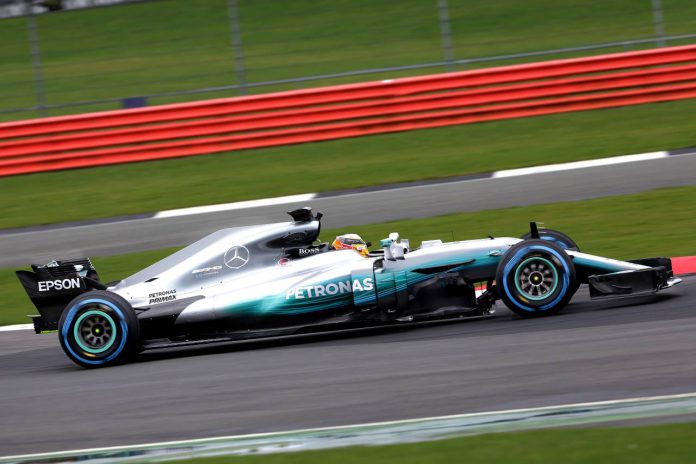 Speaking at the launch, Hamilton said: "It's been a fantastic winter and an exciting training season for me," explained Lewis of his preparations for the increased physical demands of 2017. I've added a new element to my training regime that has kept it really enjoyable and I'm in great shape. Then I've visited the factory and that has been super encouraging to see the way in which everybody is working.
"I'm the best equipped I have ever been to work with my team-mate and manage the relationship with my experience and maturity. I welcome Valtteri to the team and I know that the team will be giving us both everything they can to win the championship."
Bottas added: "It's a new chapter in my career, a new team, new regulations… new everything! I've been waiting for a long time to get this car out on track and, although this is just a Filming Day, I'm looking forward to starting to test properly next week in Barcelona and to really understand the car that we've been given by everybody in Brixworth and Brackley."