Lotus released the Evora Sport 410 last October. They have today announced a unique, 1 of 1 special edition as a tribute to the iconic Lotus Esprit S1 which stared in the James Bond film The Spy Who Loved Me. That car is 40 this year!
Before you ask, no, it isn't Lotus' first amphibious car! The Evora Sport 410 channels the design language of the classic Evora rather than its fictional aquatic capabilities. It is the product of the Lotus Exclusive program which aims to create a bespoke Lotus models to customer demand.
This particular car benefits from a special, colour-coded bumper and a one-piece carbon-fibre tailgate. A black coach line runs the length of the car's waist line. It gets a bespoke badge script on the B pillar in the style of the original Esprit's graphics. Inside, Lotus Exclusive fit tartan insert panels of the carbon-fibre sports seats and tartan door cards together with red contrast stitching for the Alcantara dashboard and console finish.
Underneath, the running gear is pure Lotus Evora Sport 410. The Lotus Evora Sport 410 shares the engine from the Lotus 3-Eleven. The supercharged 3.5 litre 6-cylinder has 410 hp at 7,000 rpm and 410 Nm of toque at 3,500 rpm. Performance from 0-60 mph is 3.9 seconds with a top speed of 186 mph. The Evora Sport 410 manages a lap of the Hethel test track in 1 minute 28 seconds.
Jean-Marc Gales, CEO, Group Lotus plc said, "So many of us recall the impact of the Lotus Esprit when it hit the big screen in The Spy Who Loved Me, and we wanted to honour that with a special Evora Sport 410. It's the perfect tribute to such an influential Lotus, but a world away in terms of its abilities and performance. Supremely fast and agile, rivals' cars look overweight and underpowered in comparison. Lotus was founded on the principle of lightweight engineering and, even today, nobody does it better."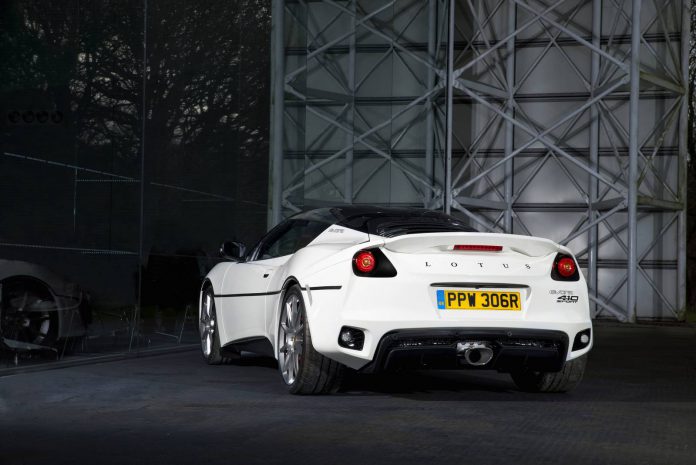 "Our customers have really embraced the Lotus Exclusive service, with 25% of new cars undergoing some form of personalisation. It is well established that Lotus cars come with benchmark performance as standard. Now, thanks to the skilled team at Hethel, responsible for hand building all Lotus cars since 1966, you can specify a Lotus that perfectly reflects your personal tastes."
The Lotus Evora Sport 410 continues its limited production run its just one-hundred and fifty vehicles produced per year. A version of the Evora Sport 410 homologated for the North American market will arrive during the second quarter of 2017.