The Pagani Huayra Roadster has been officially unveiled ahead of its debut next month at the Geneva Motor Show 2017. It has taken quite some time for Pagani to remove the roof from its Huayra, the result is staggering.
Work on the Huayra Roadster actually began in 2010. Pagani reveal within the release information that the design was binned in 2013 and Horacio went back to the drawing board. Production of the Huayra Roadster is limited to 100 vehicles, all are sold. The base price is a staggering €2,280,000 plus VAT.
The key design element of the car is the Pagani Huayra Roadster's roof. There are two options. The first is a lightweight carbon too with a central glass element, similar in style to the Porsche Carrera GT. The second is a fabric and carbon cover which can be installed easily in the event of an emergency.
The Pagani Huayra Roadster gets an aggressive front end, wider wheel arches and a redesigned roll bar. The Roadster is actually lighter than the Coupe with improved torsional rigidity of the frame. A new carbo-titanium composite material has helped create a 52% increase in stiffness. Dry weight is 1,280kg, about 80kg less than the Huayra Coupe.
The suspension assembly is made from a lightweight aluminum alloy, called HiForg, designed specifically for the Huayra Roadster. It achieves a 25% weight saving. Brembo brakes are uprated carbon ceramic (CCM) discs measuring 380×34 mm with 6-piston calipers in the front and 380×34 mm, 4-piston calipers at the rear. Unique Pirelli Piero Corsa's are also redesigned and allow a lateral force of 1.8 G.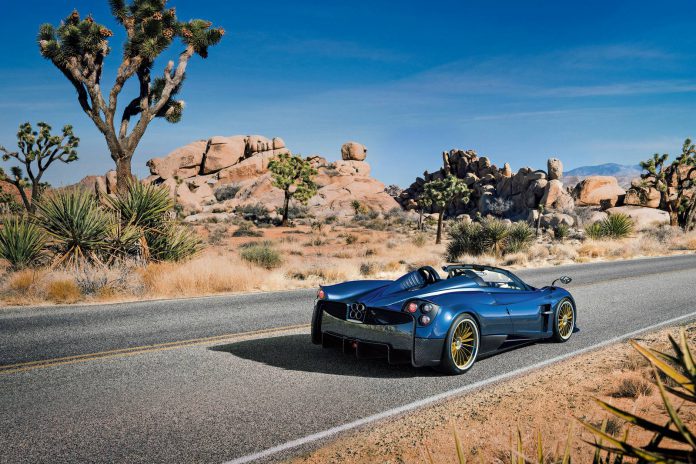 The Pagani Huayra Roadster continues to use the Mercedes-AMG M158 engine. The twelve-cylinder unit uses twin-turbochargers to produce 764 hp at 6,200 rpm, with a torque of over 1000 Nm available from 2,400 rpm. It has full EURO 6b and Carb environment regulations.
It is coupled to a new seven-speed AMT gearbox developed by X-Track. It uses a hydraulic and electronic activation system with carbon synchronizers. Bosch developed a new ECU and electronic differential for increased drivability while the entire system weighs 40% less than the standard dual-clutch gearbox.