Audi have announced a new Audi RS 3 Sportback for the Geneva Motor Show 2017. It follows the Paris Motor Show debut of the Audi RS 3 Sedan and completes the range of RS offerings for the A3 series. As with the other models, it is fitted with the most powerful production five-cylinder engine in the world!
The 2.5 TFSI engine delivers 400 hp, 33 hp more than the outgoing model, and 480 Nm of torque between 1,700 rpm and 5,850 rpm. An aluminium crankcase helps shed 26 kgs. The RS 3 Sportback is able to sprint from 0 to 100 km/h (62.1 mph) in 4.1 seconds. While top speed is normally electronically limited to 250 km/h (155.3 mph), Audi will – at customer request – increase this to 280 km/h (174.0 mph).
The engine employs dual injection into the intake manifold and into the combustion chambers. Fuel consumption under the New European Driving Cycle (NEDC) is 8.3 liters of fuel per 100 kilometers (28.3 US mpg), which equates to 189 grams of CO2 per kilometer (304.2 g/mi).
Coupled to the engine is the iconic quattro drive system with an S tronic seven-speed dual-clutch transmission. The suspension sits 25 millimetres lower and the wheelbase is 20 millimetres wider than the standard A3. The RS 3 comes fitted with 19-inch cast wheels and 235/35 tires. Brakes are 310 millimetres in diameter with an option for carbon-fiber ceramic disks at front.
Distinctive RS design touches include a gloss black honeycomb grille, large air inlets and angular sill trims. LED headlights are standard with matrix LED headlights available as an option. At the back, there is a roof edge spoiler, a diffuser insert and large oval tailpipes.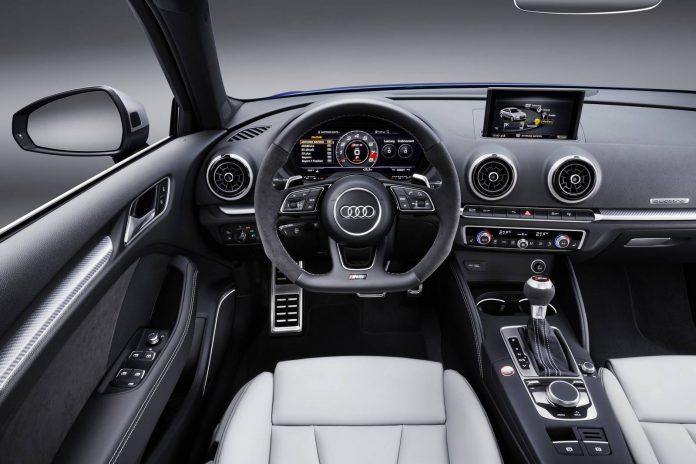 Inside, the lap timer, boost pressure indicator and special RS screen differentiate the performance model. Instrument dials are finished in black with red needles and white scales. The Audi virtual cockpit is available as an option. RS sports seats are fitted with black Nappa leather as standard.
Orders for the Audi RS 3 Sportback and the RS 3 Sedan will be taken from April 2017 with deliveries set to begin in August 2017. The base price for the Audi RS 3 Sportback is 54,600 euros, and the Audi RS 3 Sedan is listed at 55,900 euros.