Bugatti has announced that the Bugatti Chiron has now began production at its factory at Molsheim. It has revealed that the first customer cars are set to be delivered during the first quarter of 2017 with 70 expected to be built before the year end. 12 Chirons are currently sitting on the production line
Bugatti has also revealed that the Chiron process from production to delivery takes roughly six months. Bugatti employs 20 engineers to hand assemble the Chiron from over 1,800 individual parts.
Bugatti has also revealed more about the production process for what looks set to become the fastest car in the world. The first step is configuration of the vehicle which is completed with a Bugatti designer to the customer's individual taste. Customers are able to choose from 23 topcoat colours and eight carbon variants for the exterior, leather in 31 different colours or Alcantara in eight colours, as well as 30 stitching, 18 carpet and 11 belt colours .
Above is just a fraction of what's possible. Bugatti can create individual colours to match samples. There are design options such as logos or initials on the bottom of the rear spoiler or embroidery on the headrest and leather inlays on the central console. Bugatti has installed a customisation program "La Maison Pur Sang" which is said to meet a customer's every wish.
Once the specification is set, Bugatti set about production planning. When a production slot has been assigned to a customer's vehicle, parts are ordered. One month before the start of production, the bodyshell is assembled with the monocoque and chassis substructure to make sure everything fits. Each part is assigned a kit number and is then transferred to the paint shop. Painting takes three weeks, with carbon fibre six layers are required whereas, up to eight layers may be needed for other finishes. Everything is done by hand and each layer is sanded down and polished.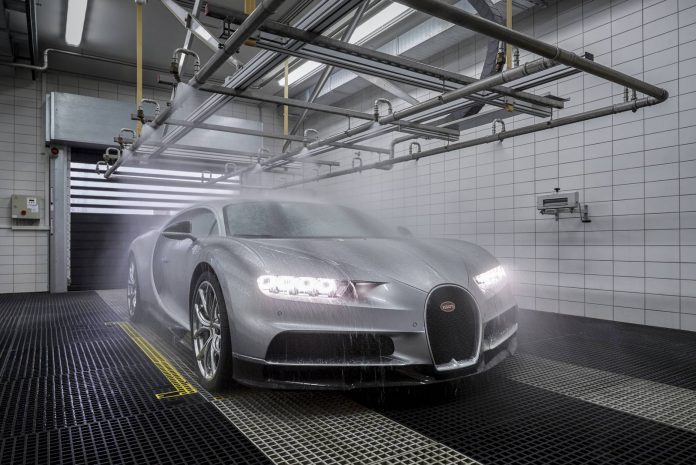 Assembly then starts in earnest. Christophe Piochon, Member of the Bugatti Board of Management responsible for Production and Logistics explains, "Here in Molsheim, we have a small factory with a small warehouse. Neither our equipment nor our procedures can be compared with those of other car plants. Just-in-time' has a very special dimension for Bugatti".
Modifications have been made to the workshop floor, which first opened in 2005. Exterior components are now pre-assembled at the technology centre in the plant area, a new rolling dynamometer was developed to accommodate the 1,500 hp output developed by the Chiron. The floor in the Atelier has been refitted with epoxy and is conductive, ensuring the dissipation of any electrostatic charges.
There is a huge amount of work and attention to detail applied to the process. We can't wait to see the finished example on the road!