Mercedes-Benz has the luxurious GLS and Audi's development of the new Q8 is rapidly advancing with the recent unveiling of the Q8 concept car. BMW's answer to the increasing boundaries of the luxury SUV is the X7, which as the number indicates, will sit above the bestselling X5 in the market.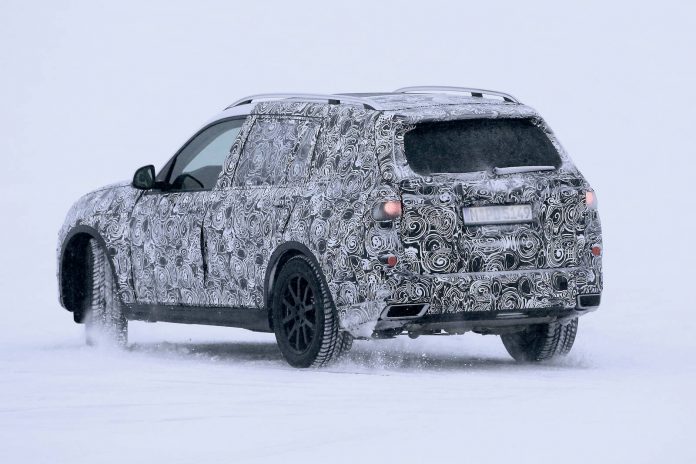 Three years ago first rumors about the luxury X7 were circling around, which is when BMW started the development of the new SUV, codenamed 'G07'. Recently this set of spy shots was snapped in cold Lapland where the BMW Group is currently testing the new BMW X7 and the upcoming Rolls-Royce SUV. Both luxury SUVs are said to share many components in the future, similar to for instance the Audi Q7 and the Bentley Bentayga.
Another model that the X7 will share some of its genes with is the luxury 7 Series sedan, with both models boasting the modular CLAR architecture. Other components, such as the suspension, will be sourced from the BMW X5 model. The X7 will be offered in both a rear-wheel drive and all-wheel drive (xDrive) setup.
Under the hood the new luxury SUV will be offered with both six- and eight-cylinder engines and is likely to feature a plug-in hybrid setup similar to the X5 xDrive40e. For the big spenders an upgraded version of the 6.0-liter V12 currently found in the 760i will be made available, currently good for a solid 544 hp and 750 Nm of torque.
On the inside the new luxury SUV is said to receive a grade of luxury that surpasses anything BMW has created so far, with seating space for up to seven people. The upcoming X7 will be assembled in BMW's Spartanburg factory in South Carolina, USA, which is also home to BMW's popular X5 model. Base prices of the X7 will reportedly start at a cool €130,000, with BMW aiming to produce some 45,000 models annually in the foreseeable future.