Salon Retromobile takes place next week, one of the biggest events of the classic car calender. To celebrate, Land Rover Classic has revealed the first product of its Range Rover Reborn program.
The 1978 three-door Range Rover Classic gets a factory restoration to what looks like concours condition. The cars from the Reborn series are sourced by Land Rover and comprehensively restored to create a unique collector car. The Range Rover Reborn program follows on from last year's Land Rover Series I Report, introduced last year.
The 1978 Range Rover Classic features a Bahama Gold exterior colour. It is fitted with a reconditioned 3.5 litre V8 Petrol engine producing 132 bhp at 5,000 rpm and torque of 186 lb ft (251 Nm) at 2,500 rpm. It has a manual 4-speed transmission and a lockable central differential.
The Range Rover was originally launched in 1970 as a two-door only model. It wasn't until 1981 when the four-door model was launched. Production ran right up to 1996.
Every Range Rover Reborn will get a complete restoration to the original 1970's factory specification using Land Rover Classic Parts. Prices for completed Range Rover Reborn restorations will start from £135,000.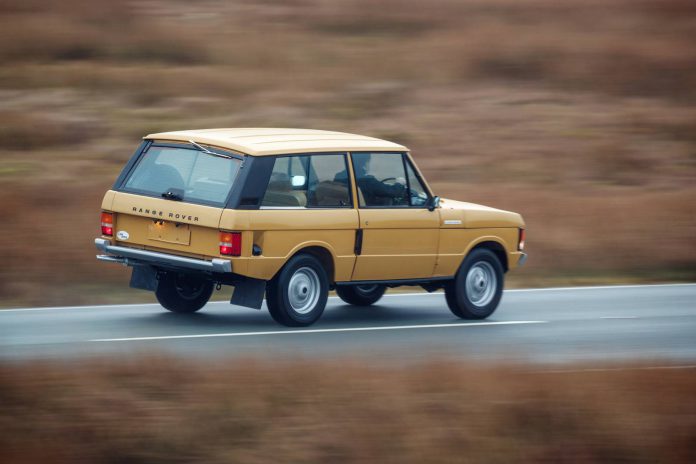 Tim Hannig, Director of Jaguar Land Rover Classic, said: "Range Rover Reborn is another showcase of our dedicated in-house engineering expertise. It underscores our commitment to nurturing the rich heritage of Land Rover, and is a rare opportunity for customers to own a valuable and genuinely collectible automotive icon. It is a wonderful way to preserve the much sought after three-door original Range Rover from the 1970s, from period-correct colour ways to interior trim and accessories."
Both the 'New Original' XKSS and the restored First Series I Jaguar E-type Fixed Head Coupe will be available to see on the Jaguar Land Rover Classic stand at Salon Rétromobile. The showing of the XKSS marks the beginning of deliveries for the 9 lucky customers.