The 50th Anniversary Shelby Mustang Super Snake is a collaboration of Shelby American, Ford Performance, Borla, Michelin and Wilwood who teamed up to create a more powerful Mustang GT living up to the 'Super Snake' badge which has been around for five decades now.
2007 marked a new milestone for Shelby American when they reincarnated the Super Snake, a car that went on to set new records. This year, the company marks the 50th anniversary since the inception of the original Super Snake in 1967. Only 500 units will be built each priced from $69,995. Alternatively, owners of a Mustang GT will be able to upgrade to the Super Snake package at a price of $36,795.
2017 Shelby Mustang Super Snake
The outcome is amazing, the figures are what the Super Snake name stands for; naught to 60 mph in 3.5 seconds and a quarter mile in 10.9s not to mention the 1.2g on the skip pad. The 5.0L V8 gets a big supercharger capable of producing 750 hp plus, there is a subtle option delivering 670 hp too. The Super Snake package will be available for both manual and automatic transmission.
The suspension gets exclusive Ford/Shelby spec dampers, sway bars, springs and bushings set on 20 inch forged wheels that are further wrapped in black Shelby spec tires. Stopping power is provided by the Wilwood 6 piston calipers featuring floating rotors at the front and 4 piston calipers at the rear. For the 750hp package, buyers will have an option of Whipple and Kenne Bell supercharger systems.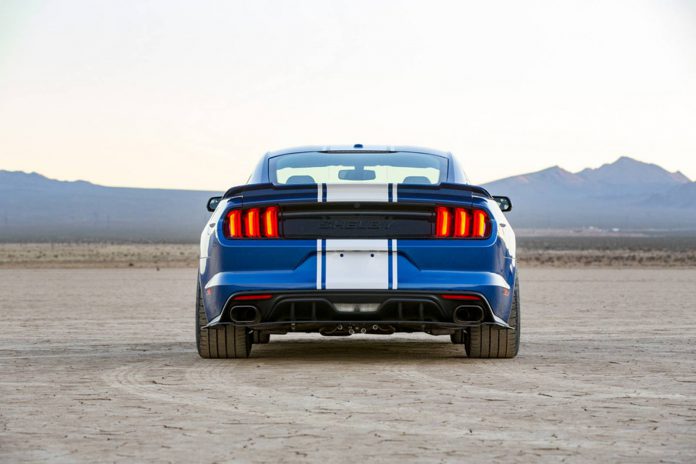 A CAD was used to develop the exterior styling which in turn had to go through OEM processes, Shelby says that nearly all components were tested and developed with original equipment manufacturers. That said, the car features 50th anniversary stripes and badges inside and out. Also new is the hood, spoiler, rockers and splitters while the rear gets a new panel and diffuser assembly.
The 50th Anniversary Shelby Mustang Super Snake will be built at the Shelby American facility in Las Vegas.