Lets take it back to 2012, seems eons ago now right? SEMA is a show where it takes balls to stand out, and one company did that with a small car that packed mega visual punch the BMW 1M Coupe by RevoZport. The project was considered a great success and highly regarded as one of the best designed aftermarket upgrade for the BMW 1M. The design shaved 60kg of weight by replacing numerous panels with carbon fibre ones and installing a brutlal titanium exhaust. The performance on track was far superior to that of the factory car.
Flash forward back to the present day and values of 1M coupes are steadily rising. The 1M has made way for the M2 and RevoZport have worked their magic once again. Meet the M2 Raze Aerokit, tasty isn't it? RevoZport took the same approach as they did with the 1M pocket rocket and turned it up a notch.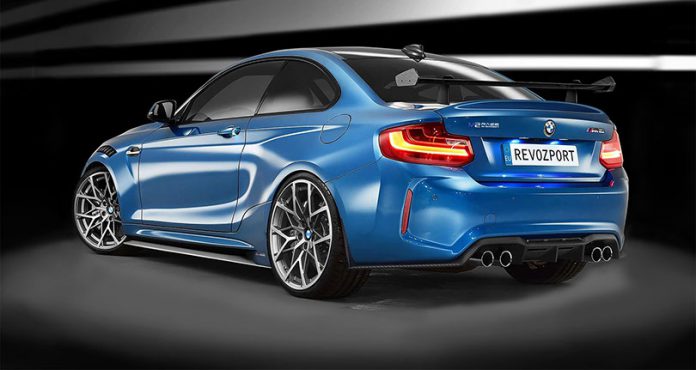 At the front end there is a 3 way adjustable front splitter (Street, Sport and Track setup) with cooling vents that channel cold air directly to the brake discs to reduce performance loss. The canards around the front bumper vents not only looks fantastic but push more air to the oil cooler and aid engine cooling at all times while the vented hood sucks hot air out from the radiator.
Moving around to the profile of the car, the door sills extend to part of the rear wheel arch adding to the muscular fender-flares. Towards the back, you will see the statement GT spoiler designed with a swan neck mount which from the CFD (Computer fluid dynamics) that shows the support mounted from the top of the spoiler blade. Finally, the vented diffuser is designed not only to provide better ground effect but also vent heat from the exhaust muffler. Performance is also upgraded from the original 370hp to a whopping 480hp, courtesy of the free-flow lightweight titanium exhaust, ECU and intake system. The package comes together beautifully, RevoZport have done it again!