After much anticipation, official details of the Audi Q8 Concept have been unveiled at the Detroit Motor Show 2017. The X6 and GLE Coupe rival is a bold step into the unknown for the German manufacturer. It is expected to debut as a production model in 2018.
The Audi Q8 Concept measures in at 5.02 meters (16.5 ft) long, 2.04 meter in width with a wheelbase of three meters (9.8 ft). The definitive feature of the front end is the octagonal Singleframe with honeycomb insert. Audi's digital Matric laser technology powers the headlights that sit either side.
The Audi Q8 concept gets a sloping, coupe-like roofline. Whilst the C-pillar is flat and wide, the doors do not have window frames which helps reduce the bulk. A quattro logo is milled below the rear doors and exterior mirrors. The doors are touch sensitive. The roof gets an edge spoiler with various lighting elements framing the back end. The diffuser is machine from aluminium with a clasp of high-gloss Carbon Atlas.
Inside, there is 630 litre of luggage space with enough space for four people. There are two sport seats in the front and a further two sport seats in the rear. The surfaces are pretty unique too with a three-dimensional gain applied to the instrument plane and a variety of high gloss carbon applications. Fine Nappa leather and Nubuk leather, both in pastel silver, cover the seats.
The control concept uses large touchscreens in the cockpit with an expanded version of the Audi virtual cockpit and a contact-analogue head-up display. In "auto" display mode, the 12.3-inch TFT display includes enough space for maps, lists and additional information – all on the same screen.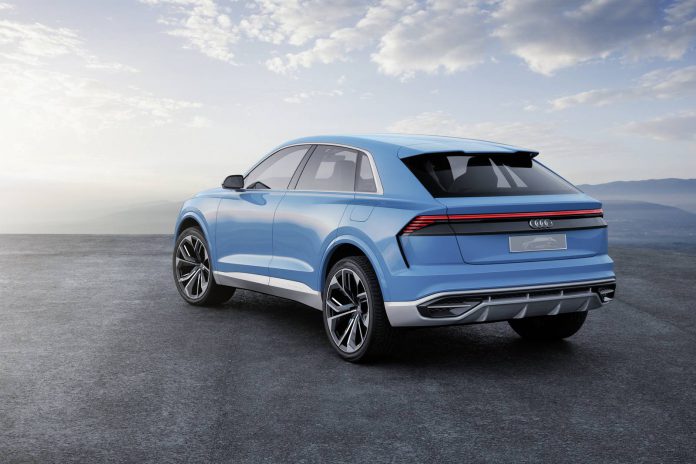 The engine combines a 3.0 TFSI producing 333 hp and 500 Nm of torque. The electric motor generates 100 kW of power and 330 Nm. The complete system produces 330 kW and 700 Nm (516.3 lb-ft) of torque, enough for a 0 to 100 km/h time of 5.4 seconds and a top speed of 250 km/h. It consumes just 2.3 liters of fuel (102.3 US mpg) per 100 kilometers (62.1 mi). The lithium-ion battery is capable of 60 km of range on just 2.5 hours of charge. The drivetrain includes an eight-speed tiptronic transmission.
In typical Audi fashion, the Audi Q8 Concept uses quattro permanent all-wheel drive system to deliver its power. The adaptive air suspension uses controlled damping with a two-level ground clearance up to 90 millimeters (3.5 in). Both front and rear suspensions are engineered as lightweight five-link designs. Audi have fitted this particular concept with 23 inch wheels and a set of 20 inch ceramic brake discs.