Stage 4 of the Dakar Rally 2017 gave the best there is to offer from the Bolivian Andes, with competitors rallying from San Salvador de Jujuy in Argentina to Tupiza in Bolivia. The stage was so savage that a few key players bowed out of the race entirely. Toyota announced the withdrawal of Nasser Al-Attiyah after assessing the damage on his car which has suffered a fire and massive crash within the first three stages. The Qatari man who was the arch rival to the Peugeots bowed out of the race with half a car in true gentleman spirit.
Next in line was Australian masterful biker Toby Price, the KTM rider fell and fractured his thigh bone. This ultimately brought his Dakar 2017 campaign to an end. Peugeot was not untouched either as Carlos Sainz crashed and rolled into a ravine with only 8 km left, forcing the Spaniard out of the race too. This is the fifth consecutive time that the 2010 Dakar winner has quit the race prematurely.
Away from the misfortunes, it was an exciting stage for Peugeot's Cyril Despres who won the car category before taking the lead in the overall classification. Yesterday's winner Stephane Peterhansel finished second with Mikko Hirvonen giving Mini the best finish by coming home in third. Sebastien Loeb came in fourth in the other Peugeot.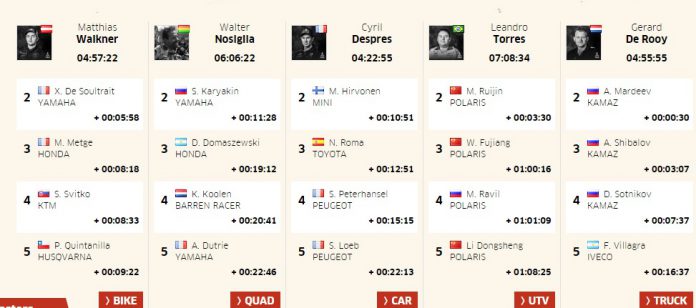 With Price out of the way, Joan Barreda was set for another stage win but his Austrian rival Matthias Walkner fought even harder to claim today's stage win. Barreda remains on top of the overall classification and is eyeing for the 2017 Dakar Rally win in the bike category. The quad category had a lucky winner, Walter Nosiglia from Bolivia triumphed in front of his local fans to mark his first Dakar win.
Legendary Dutch truck driver Gerard de Rooy showed good form today to give Iveco a win, his 31st stage win in Dakar.
Tomorrow's stage will run from Tupiza to Oluro in Bolivia, a distance of 786 km.