Dakar Rally 2017 continues to welcome events as the stages roll by, stage 3 took place today starting in San Miguel de Tucumán and finishing off in San Salvador de Jujuy. This stage marked the start of the off-road sections as well as the first endurance test, making it both challenging and competitive.
Dakar Rally 2017 Results – Overall Ranking after Stage 3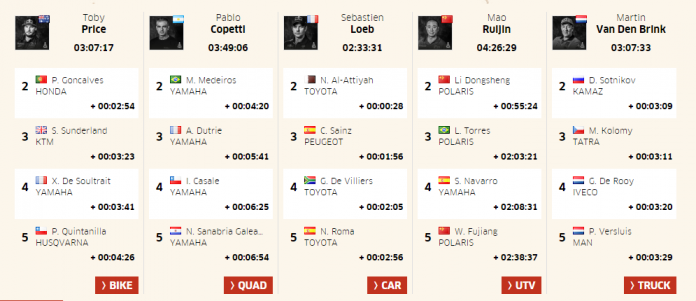 And Nasser Al-Attiyah was first to feel the full force of the stage by crashing out after leading for most part of the day. The Toyota Hilux driver was on the verge of claiming his second stage win of the year but the crash proved to be detrimental to his first Dakar campaign with Toyota. The Qatari man will now drive to stay in the game, his first day did not go smoothly either as his Hilux caught fire, nonetheless, he went ahead to claim the win.
A beat Al-Attiyah said: "Game over… a bad day. It was bad luck. We hit the other side on big stone and we broke the wheel completely. It will be a long year to wait. But we are here now at the finish and we'll see what we can do with the car."
With Toyota out of the way, Peugeot had an easy time to themselves, it was Dakar legend Stephane Peterhansel who won today's stage. He lead an all Peugeot top three comprising of Carlos Sainz and Sebastien Loeb. Peterhansel has 13 Dakar Rally wins from his vast career and is looking to add one more this year.
Dakar Rally 2017 Stage 3 Results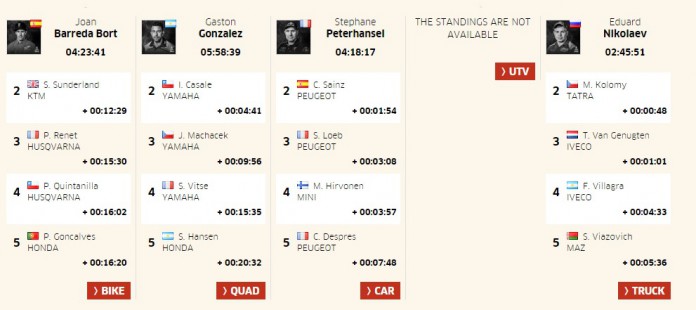 HRC rider Joan Barreda dominated the bikes category today by surprising the competition including the very challenging Toby Price who won yesterday's stage. Price had a tough day and ended up in fifth. Sam Sunderland finished second in his KTM while Pierre-Alexandre Renet came in third in his Husqvarna. In the quads category, Gastón González finished first for Yamaha while Eduard Nikolaev gave Kamaz the first win of the year in the trucks category.
Stage 4 kicks off tomorrow from San Salvador de Jujuy to Tupiza over a distance of 521 km. The competitors managed to hit altitudes of up to 5,000 meters today, tomorrow presents a whole new challenge on the dunes!