A rare opportunity to own a street-legal Porsche 993 GT1 has emerged via UK specialists, Mark Donaldson. The car in question has a very interesting history and was recently converted to a road specification following a sympathetic re-build.
The GT1 was part of the ultra-successful GT1 class of the 1990's. Porsche developed two versions of the car, the 993 GT1 which was campaigned throughout the 1996 and 1997 seasons. The second version was the 996 GT3 which was incrementally tweaked for the 1997 and 1998 seasons.
This particular car was a customer version of the early 993 GT1, run by Kremmer Motorsport for the 1997 season. Although it failed to finish in Le Mans that year, it did manage a third position at Daytona in 1998. At Daytona it was beaten only by the Rohr Motorsport GT1 Evo and a Ferrari 333SP Prototype.
The car itself features a front chassis shared with the Porsche 993 and a rear end derived from the Porsche 962. The engine is a water-cooled 4 valve, 4 cam, 3.2 litre boxer unit with a GT2 Evo specification crankcase and a restricted 600 bhp output through a 6 speed synchromesh gearbox.
When Mark Donaldson acquired the car it had already been overhauled with a complete engine rebuild in 2005 and a cosmetic overhaul in 2010 to return the car to its Daytona 1998 livery. Aldo Riti of Riverside Performance Engineering carried out the conversion to road car, fitting new dampers, locking fuel caps, steel brake discs, road wheels and tyres, a twin cooling fan setup and much much more.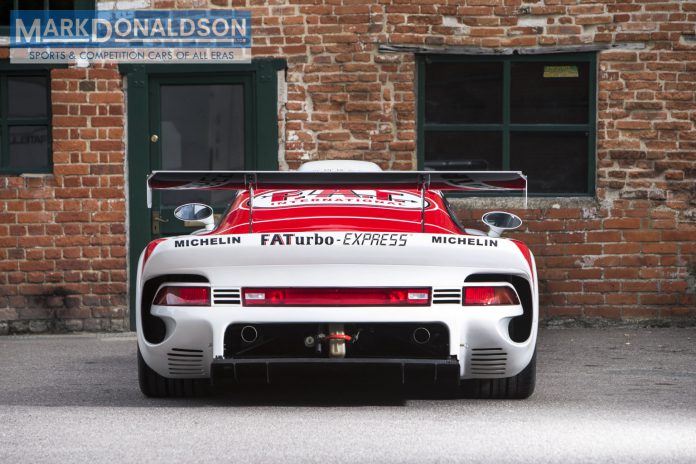 Riti also fitted new fuel lines, belts, rebuilt the turbos and removed the restrictors and fitted a MoTeC electronic management system with full datalogging and adjustable mapping.
It is now available to purchase from Mark Donaldson although the price has not been revealed. Hopefully the new owner uses it and we get a chance to see it on the road!